We have been serving our soba salad since we opened CIBI in 2008. When I created this dish, I wanted to add a touch of western flavour so that it became a café-like dish as well as a CIBI dish. Many of our regulars come in just for this salad. This is a simpler version that you can cook at home anytime. All you really need in your cupboard is soba noodles, soy sauce and lemon!
INGREDIENTS
30g (10 oz, or 10cm2 /4×4 in) Japanese bean curd
200g (7 oz, about 2 bunches) dried soba noodles
2 handfuls mixed salad leaves
90g (3 oz, around 6) cherry tomatoes, halved
½ avocado, cubed
1 tablespoon finely chopped spring onion (scallions)
1 tablespoon toasted white sesame seeds
SOBA DRESSING
2 tablespoons extra-virgin olive oil
1½ tablespoons lemon juice
1 tablespoon tamari
OLIVE RELISH
100g (3½ oz) pitted green olives, finely chopped
1 tablespoon olive brine
Juice of 1 lemon
3 tablespoons extra-virgin olive oil
METHOD
1. To make the olive relish, combine the olives, olive brine,
lemon juice and oil in a bowl. Season with freshly ground
black pepper to taste and mix well.
2. To make the soba dressing, combine all of the ingredients
in a small bowl with 50ml (1¾ fl oz) water and mix well.
3. Drain the bean curd and rinse it with hot water to remove
any excess oil. Dry it lightly with paper towel. Pan-fry both
sides in a frying pan over a low–medium heat until light
brown and crispy. Remove it from the pan and let it cool,
then slice it into 1cm x 5cm (½ x 2 in) rectangles.
4. Bring a large saucepan of water to the boil. Add the soba
noodles and cook, following the packet instructions, until
they are just al dente. Drain the noodles and run them
under cold water to stop the cooking process and wash
off excess gluten. This will help give the noodles a
nice texture.
5. Arrange the salad leaves on plates.
6. In a large bowl, combine the noodles, tomatoes, avocado,
bean curd, spring onion, sesame seeds and dressing and
mix well. Top the salad on each plate with a helping of the
noodle mixture. Garnish each with 1 teaspoon of the olive
relish and serve the rest of the relish on the side.
Several years ago at CIBI, I wanted to serve something quite Japanese, but with CIBI style – 

something everyone would love to eat. This okonomi-yaki is totally unique and gluten-free, 

lighter than the usual Japanese okonomi-yaki. We use lots of fresh sweet corn mixed with finely 

shredded cabbage. This recipe makes four okonomi-yaki, but you can make smaller ones as a 

snack or larger ones as a full meal.
INGREDIENTS
300g (10½ oz) Savoy cabbage, finely shredded
250g (9 oz) corn, about 2 cobs, or use frozen corn kernels
200g (7 oz) rice flour
200ml (7 fl oz) CIBI's Dashi
½ teaspoon salt
2 eggs
30g (1 oz/¼ cup) chopped spring onion (scallion)
4cm (1½ in) piece of fresh ginger, grated or finely chopped
1 tablespoon olive oil
CIBI'S OKONOMIYAKI SAUCE
2½ tablespoons soy sauce or tamari
2 tablespoons rice vinegar
1 tablespoon sugar
1 tablespoon finely chopped spring onion (scallion)
1 teaspoon sesame oil
Pinch of salt
METHOD
1. To make the sauce, combine all the ingredients in a small
bowl and mix well.
2. Soak the cabbage in cold water for 10–15 minutes, then
drain well.
3. If you are using corn cobs, bring a saucepan full of water to
a boil. Add the pinch of salt and the corn and cook for 5–8
minutes. Drain and set aside to cool. Once the corn
has cooled down, cut the kernels off the cob.
4. In a bowl, whisk together
5. In another bowl, beat the eggs with a fork or chopsticks.
6. In a large bowl, combine the cabbage, corn (boiled or
frozen), spring onion, ginger, eggs and flour mixture.
Mix well with a fork or chopsticks.
7. Heat the oil in a frying pan over a medium-high heat. Pour
a quarter of the batter in, forming a round pancake. Reduce
the heat to medium-low and cook until they are crisp and
brown, about 5–7 minutes on each side. Repeat to make
three more pancakes. If necessary, add more oil to the pan.
8. Plate the pancakes and brush some sauce over the top
before serving.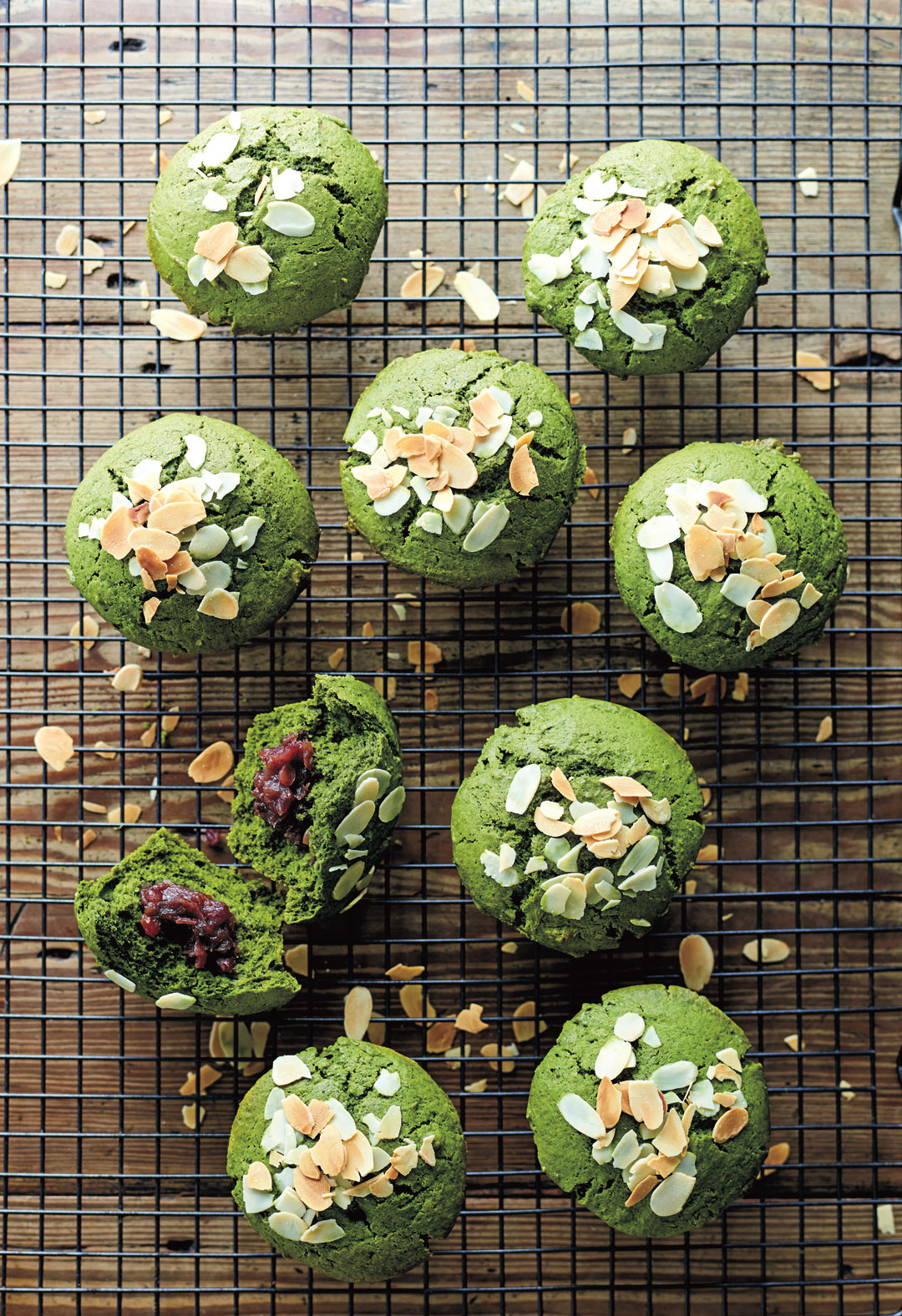 We have served these muffins at CIBI every weekend since we opened. Two classic Japanese sweet ingredients – matcha (green tea) powder and sweet azuki beans – give these muffins their distinct flavour and the unique green colour that has caught the eye of many of our customers. Over the years, they have become the finishing note of our leisurely Japanese weekend breakfast experience. They are great with both green tea and coffee.
INGREDIENTS
50g (1¾ oz) unsalted butter, plus extra for greasing
80g (2¾ oz) caster (superfine) sugar
1 egg
80ml (2½ fl oz, 1/3 cup) full-cream (whole) milk
135g (5 oz) plain (all-purpose) flour
3 tablespoons matcha (green tea) powder
2 teaspoons baking powder
120g (4½ oz) sweet azuki bean paste*
Flaked almonds, to garnish
METHOD
1. Preheat the oven to 180°C (350°F). Grease a six-cup muffin
tin with butter.
2. Melt the butter in a microwave or using a hot water
bath (the aim is to melt it, not cook it). Set it aside to
cool slightly.
3. In the bowl of a stand mixer, combine the sugar and egg
and beat at high speed until the mixture is smooth and
pale, about 3–5 minutes.
4. Add the melted butter and beat until well incorporated.
Pour in the milk and beat again for 30 seconds to 1 minute.
5. Sift the flour, matcha and baking powder into the mixture,
then stir with a spatula until smooth and shiny.
6. Pour the batter into the muffin tin, half-filling each cup.
Add 2 tablespoons of azuki paste to the middle of each
muffin. Divide the remaining batter between the cups,
pouring in just enough to cover the filling.
7. Sprinkle almond flakes on top of each muffin and bake for
20–25 minutes, until they are nice and fluffy and a skewer
inserted in the middle of a muffin comes out clean. Aim
to take them out of the oven just before they start to turn
golden brown.
Allow to cool before serving.
* Cibimemo: If you cannot find sweet azuki bean paste, you can use
50g (1¾ oz) of couverture white chocolate.
Image Credit: ©Mark Roper