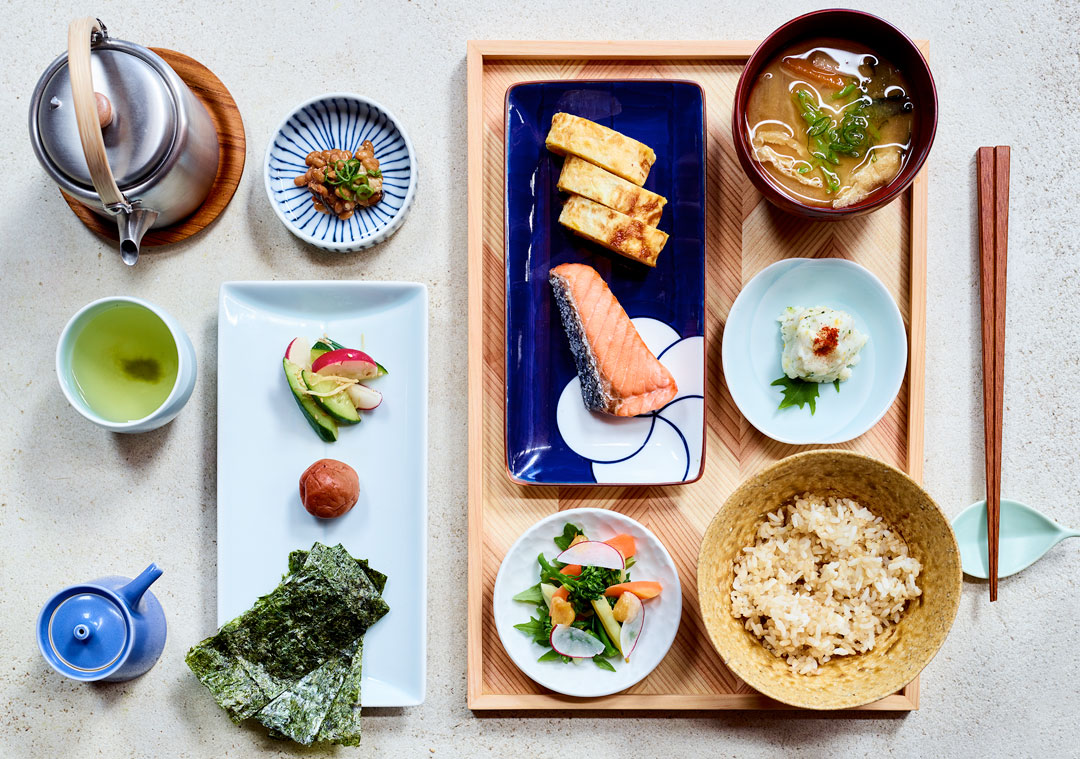 In 2008, Meg and Zenta Tanaka put their roots down in the heart Collingwood with a vision to grow their creative venture under the label 'CIBI'. A decade on, with an expansive new space in which to thrive, and a celebrated cookbook to their name, their influence on the local community has been profound, writes Georgia Jordan.
On an unassuming laneway just a short stroll down from Collingwood's bustling Smith Street, a microcosm of innovative Japanese cuisine and Melbourne culture bubbles away under the shrewd direction of talented husband-and-wife team Meg and Zenta Tanaka. Dubbed CIBI (pronounced 'chibee'), the café and design space was conceived when, more than ten years ago, the Tanakas settled in the burgeoning creative municipality with "a vision to create a space for people to come together, be nourished, and really just enjoy themselves," says Meg.
A labour of love for its passionate owners, CIBI has grown organically over time; its successful tenth-anniversary year has hailed a new cookbook, the consolidation of its two Collingwood concept spaces, and a move to a larger premises. Here, Melbourne Kitchen + Bathroom Design explores how the business has developed into not only a beloved local slice of Japan, but an influential part of the
community.
WHAT IS CIBI?
Blossoming within the clutch of independent eateries that have emerged in the competitive urban locale, CIBI attracts a loyal patronage for reasons beyond its aromatic house-blended coffee. Underpinned by a powerful ethos of head, hands and heart – which are considered in traditional Japanese philosophy to be essential elements of bringing happiness to daily life and improving our environment – the brand embraces the innocence, curiosity and creativity of childhood in the pursuit of a wholesome lifestyle, and invites us to do the same.
Literally translating as 'little one', CIBI embodies mindful, holistic living with a focus on quality food, community and environment. Drawing upon their backgrounds in food, wine, architecture and design, the Tanakas have stitched their lives and their brand within the fabric of the vibrant local community with the care of a couture dressmaker. "The CIBI philosophy is all about enjoying life with all aspects of our being," Meg elucidates. "Our heads allow us to focus on simple pleasures and make decisions to improve our lives. With our hands and all of our senses, we can engage with the world and let our creativity take hold. Our hearts remain open to everything and everyone; they allow us to appreciate beautiful things, delicious meals and time with one another."
By placing emphasis on living slowly, CIBI offers an antidote to the stressors of our busy modern lives. During a visit to the space you are sure to spot Meg and Zenta in action, taking orders from customers and ringing up tables. It's this genuine, personal touch – from the design and operation of the café right down to routine daily activities such as pouring coffee – that resonates with the cultural milieu and gives CIBI its staying power within the city's transient café scene. A true lifestyle brand, CIBI is attuned to the desires of the locals, who have long moved on from the instant pleasures of fast food and are now craving a more holistic, soul-nourishing experience.
With a rich yet simple philosophy at its heart, CIBI is a lesson in how considered design and brand experience can resonate with a customer on personal level and impact a community at large.
A FRESH SPACE
When Mina-no-ie, CIBI's cherished sister space also based in Collingwood, closed its doors in November 2018, the Tanakas were flooded with messages from locals who were saddened to farewell their go-to Peel Street hang out. But ultimately, the decision to consolidate the brands will allow more energy to be directed to the expansion of the CIBI flagship store, just a stone's throw away, which made the exciting move next door to a capacious 60-year-old warehouse four times larger in October 2018. Beautifully conceived and constructed by Zenta, the new 8002 interior – which originally housed a textiles factory – was repurposed into a fresh, quintessentially CIBI space that will present greater opportunities for the Tanakas to enrich the lives of their customers, team, suppliers and neighbourhood.
"When we opened, the workers in the factory were some of our very first customers," says Meg. "We have purposefully left the internal structure of the warehouse exposed because there is so much beauty in the history of the building. Our aesthetic comes from the Japanese concept of wabi-sabi – the acceptance of impermanence and observation of beauty in imperfection – so we have kept the big wooden beams, concrete floor and red brick walls. Our good friends from The Plant Society and [picture framers] United Measures have also taken up residence in the new CIBI space, so it is a really creative [place] where people can come and spend time enjoying all the different elements on offer."
The Tanakas take an experiential approach to running the concept space, ensuring every detail of its design and operation aligns with their philosophy of bringing fun and intrigue to the lives of their customers. Steeped in authenticity, the space is an expression of their personal experiences and beliefs, and their passion for people, place, materials and the places they intersect.
On entering the open and airy space, the generous cooking area abuzz with activity beckons with the promise of a nourishing meal. Between the kitchen and the tantalising columns of green that demarcates The Plant Society, a thoughtful arrangement of eclectic table settings showcases with elegant simplicity the attributes of CIBI. Free of pretension, the simpatico interior distils traditional Japanese concepts of simple living, and fosters a relaxed and convivial atmosphere in which the Melbourne brunch crowd can feel comfortable being their animated selves. It offers an energising and inspiring space to gather with friends and gab over a healthy and satisfying meal inspired by Japanese home cooking, topped off with with one of CIBI's famous green tea and azuki-bean muffins, the recipe for which we have included on page 174.
Adhering to CIBI's crisp, calming branding, the concept space provides visual relief from the maximalist trend sweeping the city. Here, the Tanakas have deftly synthesised Japanese style and Melbourne mood, merging the best of both worlds to create a space that makes patrons feel both content and refreshed. The aesthetic strikes an impressive balance of casual and orderly – effortless yet considered. Playful arrangements of vintage odds and ends collected by the owners over the years counter balance the contemporary minimalism of the interior, and nod to the heritage of the industrial building.
REAL MEALS
All thoughtfully developed by Meg, the meals at CIBI blend traditional Japanese ingredients and cooking methods with the diversity of Melbourne café culture. "When I was a child growing up in the Japanese countryside, my mother and grandmother always cooked dishes that aligned with the rhythm of the seasons, so my childhood memories of food are all linked to a specific time of year," says Meg. "We would only use the produce when it was ripe and ready for harvest. Cooking seasonally means
that the dishes always meet our body's needs for that time of year – refreshing in summer, warming in winter. It's because of this I have always felt a close connection to nature. I am very grateful to have grown up in this way and love that now at CIBI I can share this philosophy with a wide audience."
The soulful dishes centre on the key Japanese concept of umami flavour. "Umami can come from different fermented ingredients such as miso and soy sauce, as well as mushrooms and seaweed," says Meg. "One of my favourite ingredients to experiment with is kombu, a type of seaweed that forms the flavour base of many stocks and sauces – I will use the Japanese umami flavour base and then add elements of various cuisines to make something completely different from traditional Japanese dishes."
Recreating nourishing CIBI dishes at home is made easy with the brand's eponymous cookbook, which hit stands to the delight of fans old and new in 2018. Says Meg, "the CIBI cookbook is a collection of recipes that I have developed over many years. When we opened Mina-no-ie in 2011, I challenged myself to come up with recipes that push the boundaries even further outside of traditional Japanese cooking. Many recipes in the book would be new to people who are familiar with our regular CIBI menu."
While most CIBI dishes require only minimal Japanese ingredients due to their multicultural influences, Meg is pleased to report that sourcing Japanese food items has become far easier since she and Zenta arrived in the 90s. "There are lots of Asian and even specifically Japanese specialty stores that stock imported products. For fresh produce, the best places to visit are farmers markets or small grocers that sell locally grown and made produce." You can also find a range of Japanese and western pantry staples at the CIBI concept space, from Victorian seasonal produce and dairy products to sauces, pickles and condiments made by Meg herself.
ON OMOTENASHI
Having grown up in a culture where appreciation for the design of everyday objects is deeply felt, the Tanakas wanted to introduce timeless Japanese products to the Australian public. "We love carefully crafted pieces that don't go out of fashion," says Meg. "In fact, many of our products in the design store have been around from the very beginning of CIBI and are still as popular now as they were ten years ago."
Of the myriad pieces currently on offer in the design space you can find detailed porcelain, fine glassware, and metalwork from the famous Niigata region, as well as an assortment of other historically inspired treasures, all made by small-scale Japanese artisan manufacturers who specialise in products of remarkable artistry and utility. "We are very proud of our collection of artisanal and mostly handcrafted Japanese homewares, kitchen tools and other objects which we sell in the CIBI design store," says Meg. "Many of the products are by notable Japanese designers such as the Hakusan Porcelain hand-painted pottery, and the super fine hand-blown
glassware by Shotoku. When we choose which items to add to the CIBI store, we are always thinking about how they can enhance enjoyment and allow you to appreciate the simple things in life. For example, the Sori Yanagi cutlery not only looks beautiful, but it feels good in your hands and your mouth, which means you experience the food and the act of eating differently. There is a pleasure that comes from turning something that is usually just practical into a great experience in its own right. In Japanese we use the word omotenashi, which refers to going above and beyond expectations to provide the ultimate enjoyment of a dining experience. The same attitude relates to using beautifully designed objects in cooking and eating food, which enhances the pleasure of a meal. This is why every dish at the CIBI café is served with the same designer utensils from our store."
Among the delightful range you will also find special CIBI-made pieces spanning lifestyle, fashion, furniture and architecture, each informed by Zenta's sharp eye for design.
GOOD NEIGHBOURS
The success of CIBI lies in its strong relationship with citizens of the inner-urban pocket, which have had a meaningful role to play in the brand's evolution. "Collingwood was still quite a rough neighbourhood when we first opened, but slowly it's grown into a very creative community and there are many like-minded people living and working around here," says Meg. Regular events
take place at CIBI on a rolling basis, where patrons are encouraged to engage with the holistic lifestyle which underpins the brand.
From interesting workshops, to exhibitions, night markets, cooking lessons and even live performances, the concept space will offer many opportunities for citizens to gather and learn something new, be entertained, or nab a nifty collectable for their home. "Over the years, our customers have become our family," reflects Meg. "We have built a community that understands and appreciates what we are
doing." The brand's relationship with locals is not only strengthened through the Tanakas' efforts in house, but also via social media, where they keep a running dialogue with their customer base. In sharing their story each step of the way with the community, they are consciously breaking barriers between the café staff and their clientele. "We didn't have much experience in owning and running a business before opening CIBI, we have learnt a lot about the business side of things," says Meg, "but most importantly, we have learned that when you stick strongly to what you believe in, people will respect and trust you and keep coming back to support you."
CIBI's contribution to the locale has also spurred greater opportunities for other independent creatives, who have connected through the brand and even gone on to pursue their own collaborations. With a simple philosophy at its core, CIBI appeals to locals for myriad reasons, and offers a different yet no less meaningful experience from one person to the next. "Especially in our new space, there is plenty of room for people to use us in many different ways," says Meg. "They could stop by for a quick coffee on the way to work, or have a leisurely breakfast or lunch. They can come and look for gifts and homewares from the design space or pick up some groceries to enjoy at home. We want to be whatever people need us to be to help them get that little extra enjoyment out of life."
31–39 Keele Street, Collingwood.
Open Monday to Friday 7–5,  and 8–5 on weekends.
03 9077 3941 | @cibi_minanoie
Serving grandma's traditional Japanese breakfast daily.