Whether you're looking to eat healthier, entertain more or stress less, designing a kitchen that inspires you to achieve your personal wellness goals will give you the boost you need to live your domestic life to the fullest. Jacinta Walsh speaks with Krystal Novak, the marketing manager of The Kitchen Design Centre, to discuss the 'healthy kitchen' trend.
Well-being, self-care, mindfulness – these buzzwords are catching everyone's attention, but why are they becoming so popular? As we learn to take an introspective look at what makes our lives that little bit better, it seems there is more to our wellness than simply eating right and keeping fit.
Wellness is an active process that requires us to create healthy habits that promote mental, physical and emotional growth. An effective way to implement positive change in your everyday life is to focus on the design of your kitchen, which can have a significant impact on your health. In doing so, you will give yourself a better chance of achieving and maintaining your wellness goals, whether they involve spending more time with your family, earning a green thumb, or being more eco-conscious.
Creating a wellness-inspired kitchen is a step in the right direction when it comes to improving the self, your home, relationships and the world around you. Each of these facets is inextricably linked and plays a
dynamic role in your life, so what better way to call it all into focus than mindfully updating the heart of your home?
SHELF CARE
We are often prone to choosing convenience over effort, and this is reflected in the modern kitchen. A wellness kitchen challenges this behaviour to instead give you the agency to achieve a healthier lifestyle. The trend, which sees kitchen design transcending style and functionality, seeks to inspire homeowners to willingly select the harder yet ultimately more rewarding option.
Designing a kitchen that inspires wellness begins with identifying the change that you want to see in yourself. "Wellness in a kitchen is going to look different for every home and lifestyle," Krystal Novak says. "When we design a kitchen, we want to know about your lifestyle, or the ways you would like to live." For some people this might mean a place to read the paper, relax and practice mindfulness, while to others it may mean extra cupboard space so that they feel less overwhelmed by clutter.
A SENSE OF COMMUNITY
While navigating our hyper-digitalised society, it's important to maintain tangible relationships. Engaging with others in person is proven to enhance our thought processes so that we are more open to new ideas, through learning and collaboration. "We were created to have relationships with other people, so it makes perfect sense to design a kitchen that reflects this," Novak says. "Social interaction is more than just entertaining guests; it involves spending time with your partner or children, teaching them to cook, helping them with homework, or simply sitting and eating together as a family."
"When we design a kitchen, we
want to know about your lifestyle,
or the ways you would like to live."
– Krystal Novak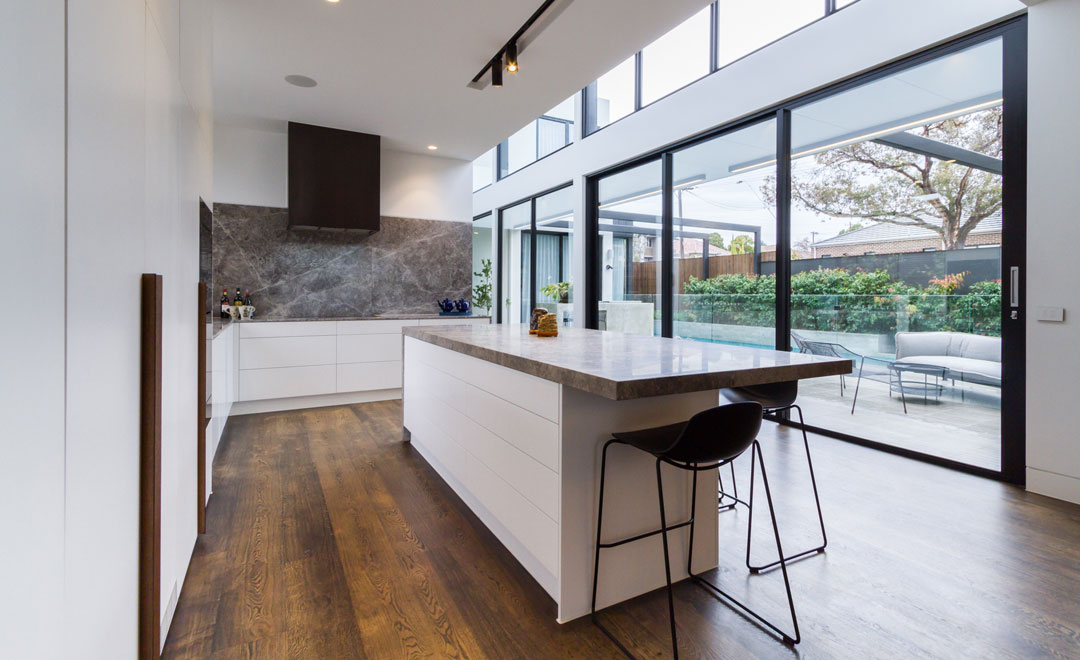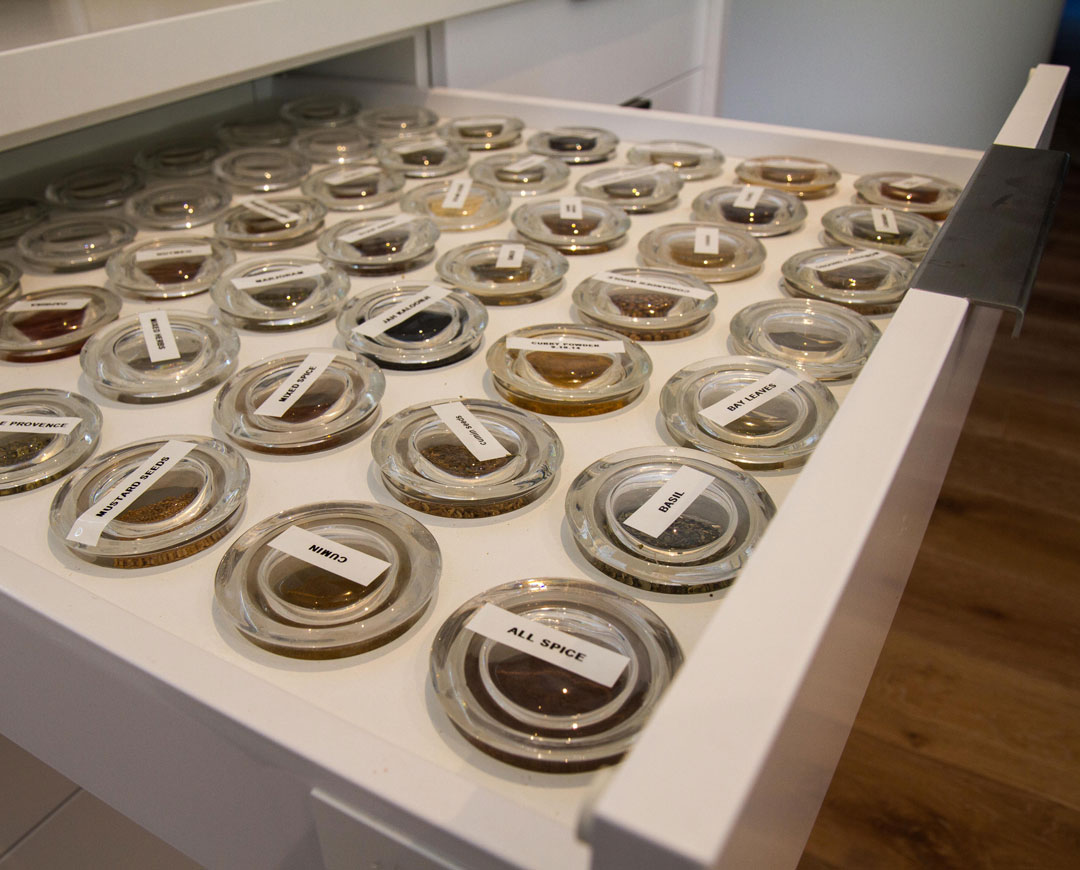 There are several ways to foster a more social lifestyle in your kitchen design. "If space permits, open the space onto the surrounding rooms," Novak says. An open-plan living area gives the illusion of extra space and will provide your kitchen with a welcoming energy. "An island or peninsula bench will allow other people to be involved in what's happening in the kitchen, without getting in the way," Novak continues. "And by adding seating to the outside [of your island] you create an entertainer's space that also supports communal living throughout the week."
INSTRUMENTS OF CHANGE
First and foremost, the kitchen is a utilitarian space and therefore benefits from premium appliances. A large fridge and smaller dry-store areas will encourage you to eat food that has a shorter shelf life – which means more fruit and vegetables, less waste, and a much happier tummy. "Most fresh produce needs to be stored in the fridge, so selecting the right style and size is very important," Novak says. "Glass-front fridges allow you to see what's in your fridge without opening the door. This keeps the cold air in the fridge, reducing the amount of energy needed to cool it."
A glass-front fridge benefits both you and the planet, which is a huge plus if your goal is to implement sustainable living practices in your home. It will also give you the motivation to keep the inside of your fridge looking appealing, so no more hiding your guilty pleasures or mouldy veggies in your crisper!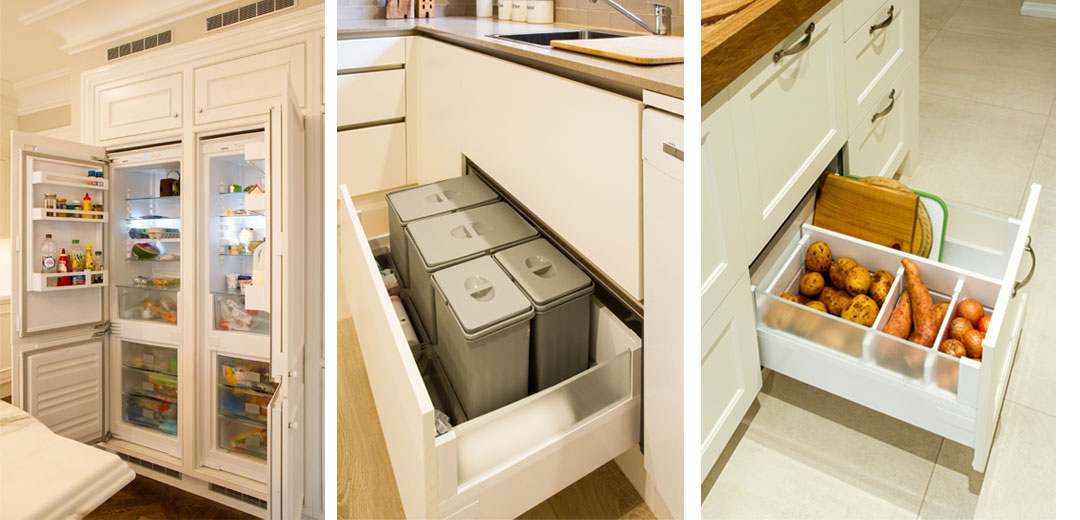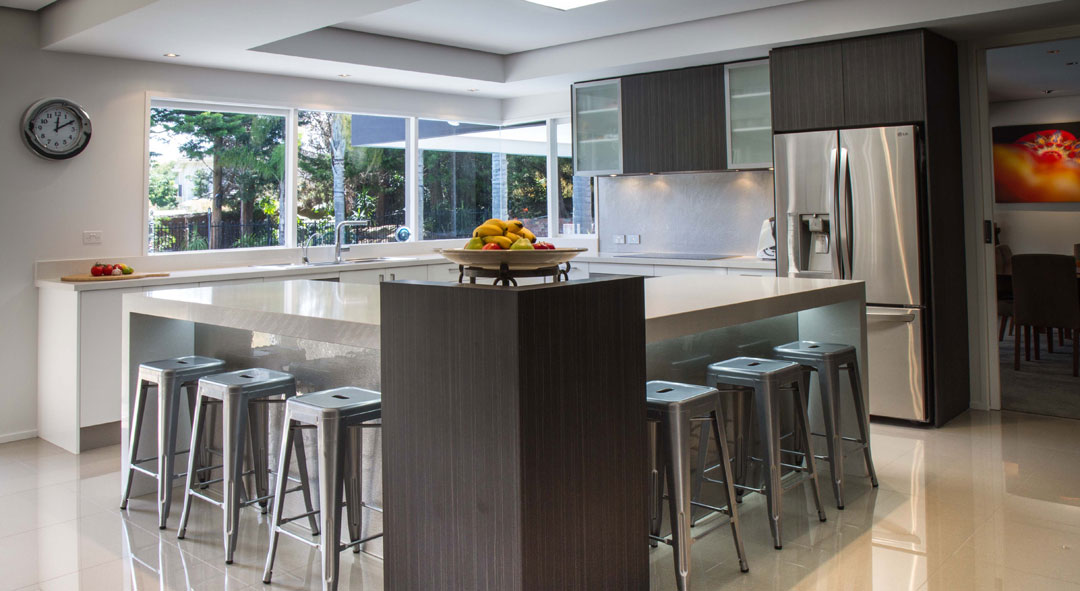 When it comes to dry storage, cupboards are traditionally designed to accommodate canned and processed foods with longer shelf lives – foods that aren't typically high in nutritional value. "A popular way to store foods like potatoes and onions is in an aerated vegetable drawer in a cool, dark position with a mesh front to allow airflow," says Novak, who also recommends installing a quality rangehood to reduce the amount of oil residue that enters the air, a steam oven that maintains the food's nutrients while cooking, and a filtered tap for clean water that's free of nasties.
Revolutionising the way we design buildings, the WELL Building Standard is growing in popularity in Australia. "The WELL Building Standard is a performance-based system that was created to measure and monitor built environments," Novak says. "[It considers] how various factors such as air, water, nourishment, light, fitness, comfort and the mind impact human health and wellbeing." The rating system seeks to optimise and advance the ways in which buildings can improve our health, so it's important to keep this in mind when choosing appliances for your home.
CULTIVATE YOUR INNER WORLD
An indoor garden is the perfect way to bring a piece of nature into your wellness space. Plants have relaxing properties that are proven to boost our mood. "Plants clean the air and provide more oxygen, and from a design perspective, they add life to a space," Novak says. When designing your interior garden it's important to consider its position within the house. "Plants need sunlight, water, air and nutrients to grow," Novak adds. An irrigation system may be needed to provide adequate water, while a skylight is a great way to bring more natural light into the space. If you don't want to commit to a large garden, a small herb garden or hanging pots are a great way to add fresh greenery to your space without too much added upkeep.
"Minimalism creates a cleaner and
more stress-free environment."
Colours have the power to evoke different emotions, so choosing the right palette for your kitchen is critical. "Wellness is the state of being in good health, and a key part of good health is being in a positive head space," Novak says. "Use colours that promote calm and happiness, such as yellows, greens, blues and whites." Sticking to tonal
variations of one hue throughout the space will achieve a harmonious effect that encourages a peaceful inner state while you cook up a storm.
More homeowners are also turning towards minimalism when decorating their kitchens. "Minimalism creates a cleaner and more stressfree environment," Novak says. "It also means the kitchen has more usable preparation space." Minimalism is also a cost-effective solution for homeowners who wish to invest their money elsewhere. "From an economical perspective, more 'stuff' equals more money; the more you buy the less you have for the things that really matter," Novak adds. It's human nature to want the best of everything, but a cluttered home can lead to an overactive mind. If your wellness goal is to feel less stressed, then a minimalist 'less is more' approach can assist in reducing financial pressure and anxieties in the long term.
However you wish to improve your wellbeing, take the time to think about how your kitchen can help you reach your goals. Maybe this means knocking down a wall, or simply painting that bland wall in a brighter colour; whatever makes a positive difference to your state of mind will make all the difference in the long run.
Images courtesy of The Kitchen Design Centre