If the way to a person's heart is through their stomach, then it's important that the place we prepare and cook food for the soul is enjoyable to be in. Melbourne Kitchen + Bathroom Design explores the possibilities for custom storage and cabinetry to allow for optimum organisation. Lucy Wadelton sits down with Blum's marketing communications manager, Natalie Russo, to discuss further.
While open floor plans are becoming increasingly popular, kitchens are a true representation of the heart of someone's home. We use them every day, and so it's imperative the space is functional beyond the basics. No matter your kitchen layout, there are endless creative possibilities to reorganise your space to be the best it can be. Tailoring your kitchen to your specific lifestyle has aesthetic and practical benefits. It promises everything has a place, making cooking a fun, hassle-free experience.
ORGANISATION IS KEY
There are numerous benefits to customising your kitchen's storage so that everything remains organised and easily accessible. Natalie Russo explains that "great kitchen organisation not only allows for everything to have a place, but it also gives you clear visibility of your items." This means you won't create more clutter searching for necessarily items, nor will you squander money replenishing ingredients that are mischievously hidden in a messy pantry.
By ensuring that your kitchen is organised, Russo attests, it improves functionality of the space. "Everything has a place and it's the optimal way to make use of the space," which eases the burden that often comes with a disorderly kitchen. Some more common clutter culprits in the kitchen, Russo tells us, are drawers for cutlery, Tupperware, pots, and pans, and of course the pantry. Tackling those easily messy spaces can make a kitchen easier to clean and maintain. It can also be aesthetically pleasing for those who love a minimalist style. And with so many contemporary home designs creating a focal point out of their kitchens, it's important that everything remains pristine.
When a kitchen is messy and disorganised, it can be a safety hazard too. Items can catch on fire if left near the stove, and nobody wants to risk tripping over open drawers while carrying knives or hot things! An organised kitchen is a clean kitchen, which is ultimately a safe kitchen as well.
When your kitchen is well organised, it saves time and effort that would otherwise be wasted cleaning, searching for utensils or ingredients, and ultimately declutters the mind just as much as it does the physical space. For many, the kitchen is the epicentre of life in the home, and so it's important to reflect that. Ultimately, a clean and organised kitchen is incentive to spend more time there, making cooking joyous, rather than a hindrance.
EVERY NOOK AND CRANNY
If you are in the position to design your kitchen to be storage conscious from the ground up, then incorporating structural organisation choices during the planning stage is ideal. Russo cites "picking the right architect, designer or cabinet maker" that specialises in your chosen accessories. This will help "tailor your kitchen design to suit your needs and lifestyle". For example, Blum offers a 'Kitchen Test Drive', which Russo explains "allows you to bring in your plans and your kitchen design is simulated by real life mobile cabinets". This is an immersive way to see if your kitchen layout, design, and storage are optimal for you.
When building your kitchen from scratch, homeowners can utilise every nook and cranny and customise the level of storage to what will be ideal for them. That may mean creating zones for common kitchen activities such as prepping, cooking, and cleaning so that the design has flow, and the layout itself feels organised. This could be as simple as placing the dishwasher near the sink, to as intricate as an ergonomically accessible preparation station that has everything within an arm's reach. Other examples include a separate pull-out drawer for your rubbish, recycling, and compost bins or an under-sink drawer that utilises the corners of dead space around the bottom of the basin.
To tackle overlooked or underused space, customising the cabinetry to be 'smart' by installing a nifty gadget in corner cabinetry to access clunky pots and pans is a common solution. Blum's own SPACE CORNER seamlessly integrates with the existing angle of a corner cabinet but is designed to pull out so that all utensils are accessible and visible. Other innovative built-in options include Blum's SPACE TOWER, SPACE STEP and Pull-out shelf lock, products that integrate inner pull-out storage for various purposes, utilising awkward spots that would otherwise go to waste. Simply by getting a little creative, homeowners can elevate their kitchen storage and optimise their organisational design dreams.
IN A TIGHT SPOT
Not everyone has the time or budget to install a brand new kitchen, or even to renovate their existing one. While built-in storage solutions can be great, Russo believes there are just as many benefits to reorganising your kitchen without changing the structure. 
"One is not better than the other," she explains, "it all comes down to personal preference and what works for you." Some people don't own their own homes or don't have the financial opportunity to upgrade.
When working with an older kitchen layout, your choices seem limited. However, there are a range of creative solutions that are perfect for those on a budget, or with challenging spaces to work with. Some of the niftier ways to organise your space is looking to your empty walls and ceilings. Consider a hanging produce basket to display your fresh fruits, or a wire rack to suspend pots and pans for a rustic, lived-in look. Another option is floating shelves, ideal for decorative and practical organisation. This can also be a great opportunity to display your favourite cooking items such as vintage crockery or copper pots.
Trying to keep small kitchens organised and clean can be a challenge. When working with a particularly tight space it's important to avoid exposed or open storage that could cause more clutter. One might use magnetic spice racks on the fridge, or some strategically placed hooks for heavy-use items such as tea towels or oven mitts. However, it can make a world of difference to simply reorganise the content within your cabinetry, perhaps in uniform jars or containers that are clearly labelled. Drawer inserts are not only affordable, but a functional solution to maintain cleanliness and order for items such as cutlery, spice jars and even tableware. Many of these examples can be installed with renter friendly sticky hooks and easily removed when you move on.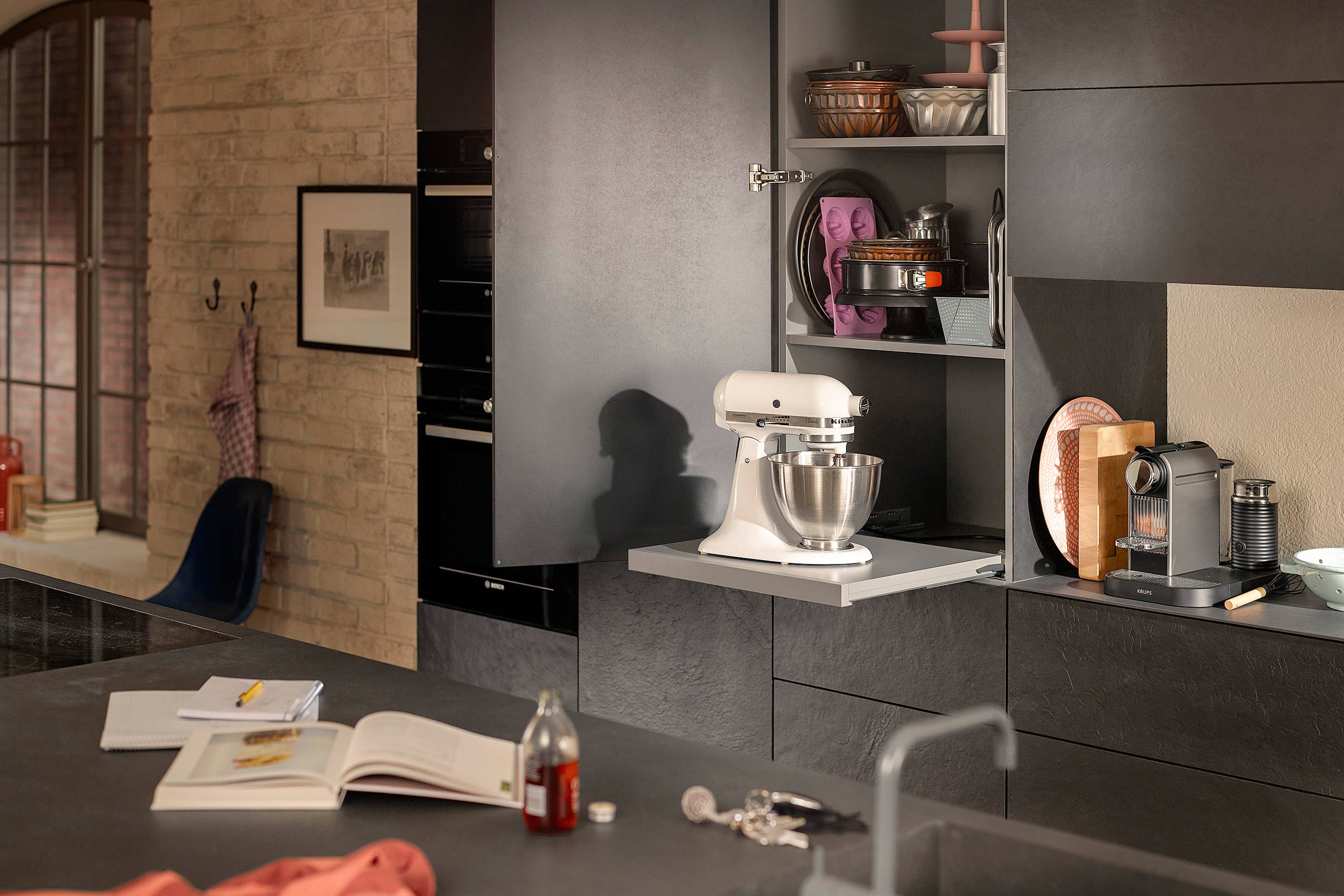 Kitchens are a place to bring people together. Whether you're cooking for or with those you love, the kitchen represents an opportunity for human connection. Kitchens are a place to make delicious things, and for children to grow a healthy relationship with food and eating habits. Thus, it's important that your kitchen reaches its fullest potential as a clean, organised, and motivating place to be. No matter your circumstances, there are many creative and inspiring ways to ensure your kitchen stays tidy and well arranged.
Images courtesy of Blum.