With Victorians hosting guests at home once again, our kitchens must adapt to accommodate this evolution in our lifestyles. As we step boldly into 2021, more and more homeowners are giving their tired interiors a new lease on life. Katie Livingston delves behind the scenes with Mint Kitchen Group's managing director and co-founder, Frank Iaria, to discuss the latest renovation trends and the company's unique approach to interior refurbishment.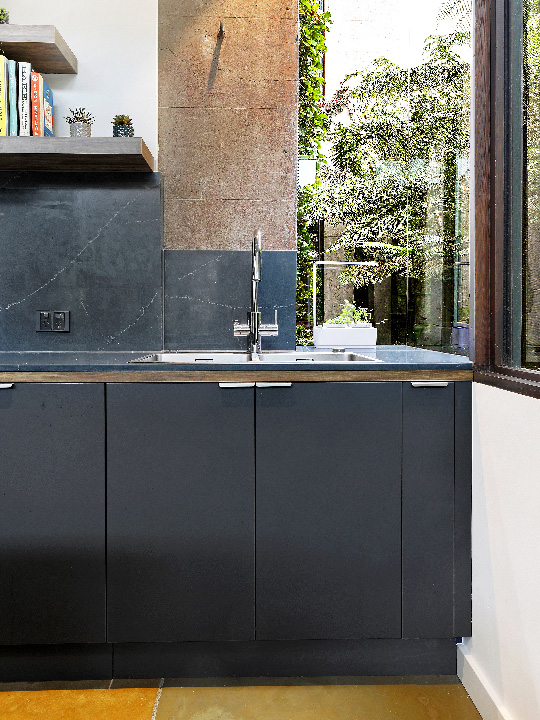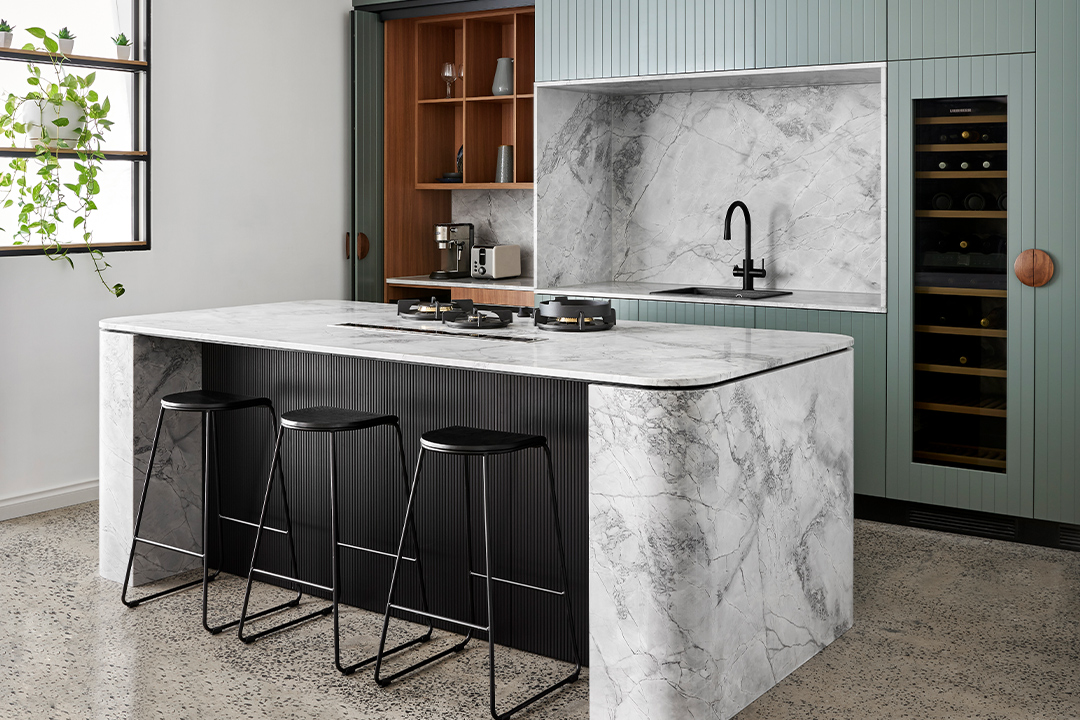 Mint Kitchen Group's journey to success started 12 years ago, when it was formed by three passionate industry experts and close friends, Frank Iaria, Albert Zarb, and Lindsay Williams. Since then, Mint Kitchen Group's brilliant designs have been recognised with more than 100 awards and accolades. As one of the best in the business, Mint Kitchen Group offers an insight into its design process and important things homeowners should consider when rejuvenating their interiors.
IS THERE A SPECIFIC STYLE YOU SPECIALISE IN?
FI: We cover all different styles, depending on what the client's needs are. Modern-contemporary is probably our preferred one because it is ever-changing, so it allows us to use different materials and explore new colours, textures and finishes. But having said that, we [also] do a lot of Hamptons or shaker-style kitchens. In particular, we have lot of people wanting simple Hamptons as opposed to a more ornate look, with shaker-style doors and natural marble or granite, or porcelain with the beautiful veining going through them.
CAN YOU BRIEFLY TAKE READERS THROUGH YOUR DESIGN PROCESS?  
Our journey starts in the showroom. We take the client on a tour, showcase the different materials we use and get a feel for what they're after. We also try to give them ballpark figures of where the costing might sit. [Then], we'll visit the site to evaluate it and put a design brief together, so we know what we're working with. From that point, if the clients decide to progress to the design stage, we draw up floorplans, elevations and do a 3D walk-through of the space. From there, we refine colours and finishes, and do another site visit with a technical detailer to go into more detail, like what's happening with floorings, walls, windows and doorways. Then we produce a set of production drawings that show everything [the client is] going to get. From these drawings, we'll determine electrical and plumbing plans for the trades to sort out. Everything gets built on site, including knocking out walls, windows and doorways, stripping out the old kitchen and installation of the new.
HAVE YOU SEEN ANY NEW DESIGN TRENDS IN THE LAST YEAR OR SO? 
We travel overseas quite a bit to see what's coming out, and one product we've seen evolve was anti-fingerprint laminate that's been treated with nanotechnology. It's quite durable being a laminate as opposed to a two pack, and it's what they call an ultra-matte finish. You virtually watch your fingerprints disappear! The biggest thing as well has been sintered surfaces [or] porcelain benchtops. These are my go-to benchtop [and] I really think they've taken over for their durability, and heat and scratch resistance.
Benchtops that continue up the wall [are becoming popular splashbacks], as opposed to glass. We haven't done a glass splashback in about eight or nine years because of the issues of trying to keep it clean. We did see a big jump back to tiles, but now we're [mostly] seeing porcelain because the broadsheets mean you can virtually have a whole run of a splashback without any grout lines or joints going through it.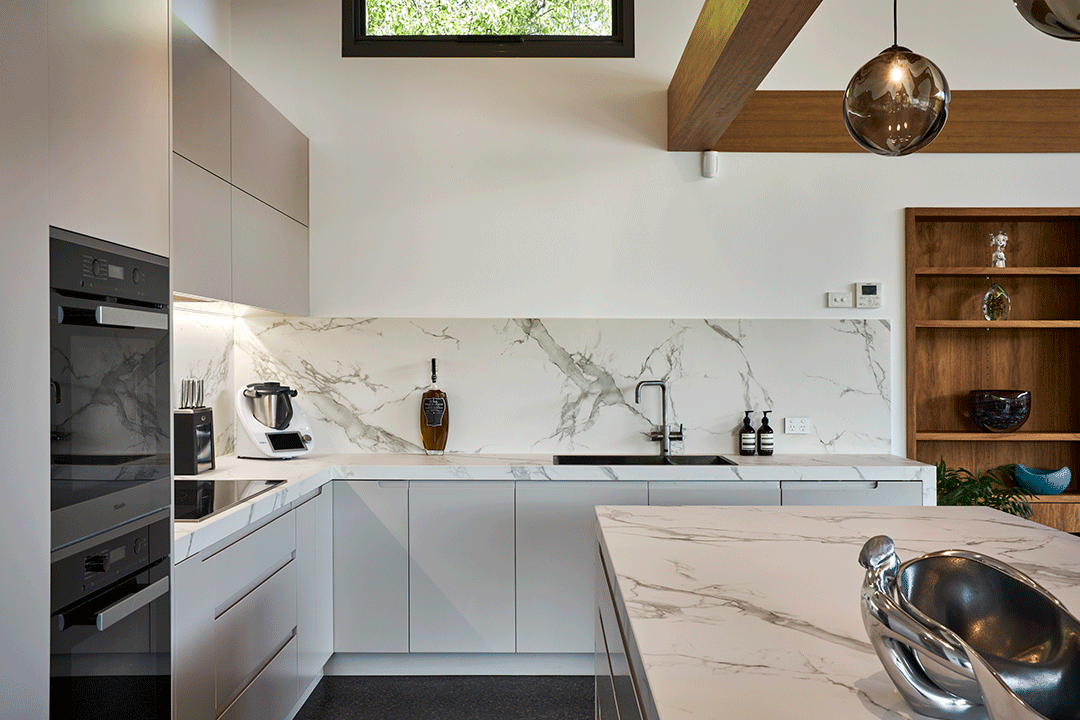 WHEN YOU'RE RENOVATING A KITCHEN, HOW COMMON IS IT TO CHANGE THE LAYOUT, AND HOW DO YOU DECIDE THE BEST LAYOUT? 
From a layout point of view, the short answer is yes, nine times out of ten [the layout] is going to be very different to what they have. Determining the shape comes down to the client's expectation – how many drawers they want to fit in, do they want an island bench and will it fit in the space. To me an ideal kitchen is a galley or double-galley style kitchen where you have no corners to deal with whatsoever. This isn't always achievable, so then you look at an L-shape with an island bench, [as] you're only dealing with one corner. The reason I say that is because corners are so difficult to work on because [leaning over them] is no good for your back. We always try to achieve a better layout than what a client [currently] has. The only thing that might hinder us from changing the shape is if the clients want to keep the existing floors and don't have the budget to retile everywhere. We'll then come up with best solution possible from a storage point of view, and work to the existing footprint.
IN A SIMILAR VEIN, FOR CLIENTS WITH SMALLER KITCHENS, HOW WOULD YOU MAKE THEIR KITCHEN FEEL MORE OPEN AND LESS CLUTTERED? 
If you take the same sized cupboard and replace it with a bank of three drawers, you'll more than double their capacity in the same area, [so we] try to get in as many drawers as possible. In a tight space, sometimes you can't afford to lose a corner, [but] there are a lot of storage solutions that eliminate the waste of corners, [including] pull-out systems and even corner drawers that make better use of the space. Another way to keep it feeling light and airy is [opting for] light colours as opposed to dark colours, which helps the space feel bigger. It's only an illusion, but works well if you use the right colour palette. We're seeing a trend with these dark navies, blacks, and dark woodgrains, but in a smaller footprint you eliminate these colours and put as many light colours as you can – not necessarily white but possibly a very pale grey that still gives it some interest.
HOW DO YOU FACTOR IN THE APPLIANCES, LIKE YOUR FRIDGES, DISHWASHERS, INTO THE LAYOUT OF A KITCHEN?
This involves a really good conversation with the client about what their expectations are, how they cook and how many people use the kitchen at once. We ask these kinds of questions to find out what the right position is for the appliances. Most of the time we try to fit the oven in the wall for easy access, [whereas] the fridge is typically closer to family areas so if someone wants to go and get a drink from the fridge they won't have to trample through the kitchen while someone might be preparing a meal. It's good to leave some bench space either side of the cooktop for chopping boards and plates for dishing up. Next to the sink there needs to be a good amount of prep area as well. [It's also important to] make sure a dishwasher isn't opening up in front of a doorway where someone is going to walk in and potentially trip over it. Any appliances that need to open into a space, you have to make sure there's enough clearance to not interfere with the work and traffic flow.
HOW CAN CLIENTS ADD A BUTLER'S PANTRY TO THEIR KITCHEN, WHERE THERE PREVIOUSLY WASN'T ONE?
Firstly, the most important thing is [whether or not] they have the floorspace and enough room to fit a butler's pantry in. The other thing is asking the right questions, like why do they want a butler's pantry? A lot of people like the idea of having a space where they can have all their appliances laid out. But if you don't have room, you can create that in the kitchen itself by having an appliance pantry. If the space is there, it's just a matter of building it in and coming up with a proper layout so you have good access and workflow between the kitchen and butler's pantry. You want both of them fairly close together, so you can see the items and access them when you need to use them.
IF YOU HAVE A HERITAGE HOME, HOW CAN YOU ENSURE THAT A NEW KITCHEN IS GOING TO INTEGRATE WITH THAT STYLE OF AN OLDER HOME WITH ALL THE BENEFITS OF A NEW KITCHEN?
We're finding that because these homes are a lot smaller, clients will do an extension with a new kitchen, laundry and bathroom, and the new extension will be modern contemporary rather than trying to replicate the old. If we're taking the old one out and putting a new one in, a lot of the older homes tend to be quite small, so we need to look at the possibility of knocking out a wall to create more space. And rather than having a separate kitchen, incorporating it more into the living family area. If they're trying to retain the classical look, we'll go down the path of a simple shaker-style doors, or v-groove style, [which] tend to work quite well because they give a nod to the heritage of the home but they're not a full-on traditional look.
ISLAND BENCHES ARE 'IN' AT THE MOMENT, BUT ARE THERE CASES WHERE AN ISLAND ISN'T WELCOME AND HOW DO YOU DECIDE WHETHER OR NOT TO OPT FOR ONE WHEN RENOVATING A KITCHEN?
For a decent island bench, you need a minimum of at least one-metre of space around it, [otherwise] it becomes difficult to move around. So space is the number one consideration, there's no point in having an island bench if it's going to be quite narrow, because that becomes more of a butcher's block, which defeats the purpose of putting an island in. You can do an island bench without the seating, but most people who want one also want seating around it to create a breakfast bar.
HOW DO YOU CHOOSE A COLOUR SCHEME FOR A
RENOVATION?
We ask [clients] to show us a collection of what they've been looking at so we get a feel of what they gravitate towards to in terms of a colour and style perspective. Colour is one of the things we love working with so we look at the space it's going into, existing furniture they may be keeping, and the colours they really resonate with. Sometimes it might just be picking one or two colours that they've mentioned and have that as a feature or highlight within the renovation. We get a feel of whether they're the type of clients that like colour or prefer to keep it more neutral and if they're not sure about a particular red or green, they can always have it as a feature wall, and then if they don't like it it's easy enough to paint over. We don't just let the client say they want a blue or green kitchen – we'll tell them our opinion on it and explain whether we think it's going to work and what our solution would be, rather than just going along with what they're saying. We listen to them, but we don't want to install something that's not going to work with them or they're going to regret down the track.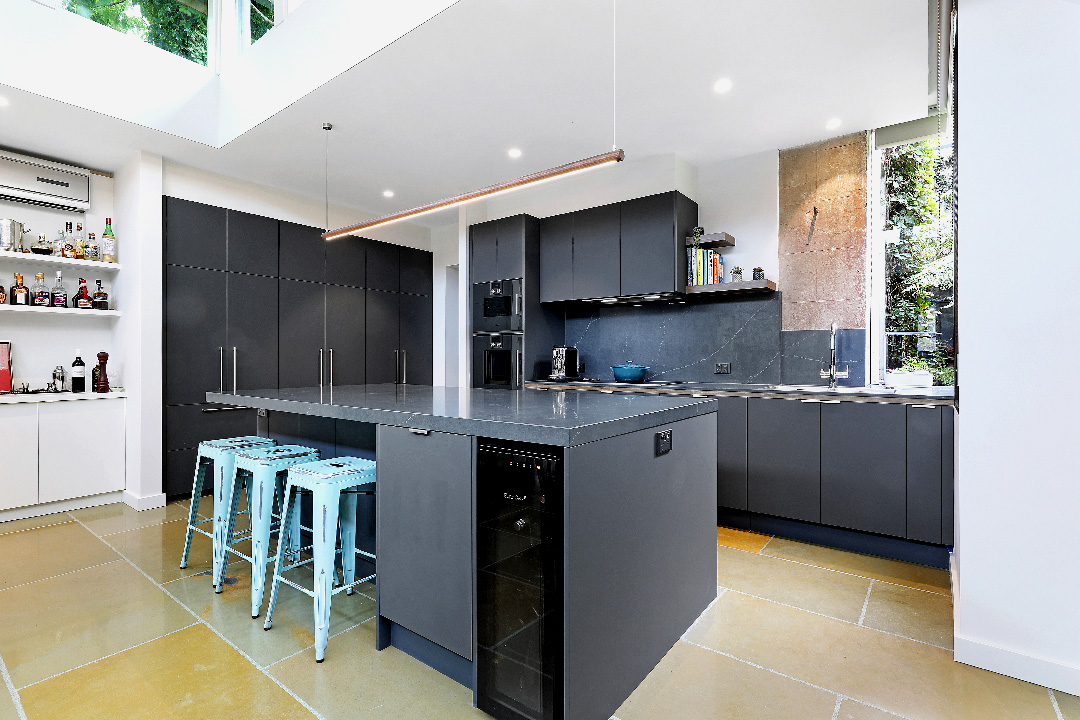 Images courtesy of Mint Kitchen Group