Whether you're starting afresh with a new build or revitalising a tired interior, your joinery plays an essential role in both the aesthetics and functionality of your home. The first step down this path is to choose a cabinetmaker that will collaborate closely with you and share their expertise, whilst listening to your vision; someone who knows your local area and is easy to communicate with. Here, Melbourne Kitchen + Bathroom Design speaks with Gary Paech, president of the Independent Cabinetmakers Geelong (ICM Geelong) and owner of iCab Cabinets, about how opting for a local, independent cabinetmaker can help you achieve your perfect space, as well as the importance of organisations like ICM Geelong.
Founded in 2015, ICM Geelong is an incorporated not-for-profit organisation, born from a collaboration of experienced business owners and qualified tradespeople who joined forces to showcase the expertise of Geelong's local cabinetmakers. The committee fosters the support and sharing of resources between local tradespeople, and works to promote these cabinetmakers by providing helpful advice and a comprehensive member directory for homeowners. ICM Geelong also hosts two annual awards and a series of local industry nights throughout the year – events designed to bolster industry connections, form friendships and recognise the industry's worthy achievements.
THE BUILDER NEXT DOOR
As more and more large department stores start producing flat-pack kitchen and joinery solutions, ICM Geelong's goal is to help "people appreciate the difference between a 'catalogue' kitchen and one that is custom built and supports our local industry". Choosing a prefabricated flat pack from a department store catalogue can save you both time and money if planned correctly, and while it can be perfect for flipping investment properties, your dream home deserves a much more tailored and personal approach. By opting for a custom-designed kitchen through a local cabinetmaker, you're able to easily communicate with an experienced tradesperson who lives mere minutes away in your local community, and collaborate closely with a professional who not only understands your needs, but can see tangible examples of your lifestyle. When dealing with a local cabinetmaker, more often than not, you'll be dealing with an individual, not a pushy salesperson or an answering machine, so the service and finished work that you receive will be uniquely tailored for you.
High-quality product is another huge advantage to employing an independent cabinetmaker. "All ICM Geelong cabinetmakers strive to meet a code of ethics that sets them apart … using quality hardware and materials, and superior workmanship," Paech explains. He also notes that members are able to attend the organisation's local events, such as trade nights, to compare notes and share useful tips and professional advice to further hone and refine their skills.
ALL TOGETHER NOW
ICM Geelong's advertising slogan, "Our Jobs, Our Kids, Our Future" perfectly embodies the philosophy behind the organisation. Independent trades play an important role in the community, and provide opportunities for both young apprentices and experienced workers to work and study in their local area, without having to move away. "The committee and members firmly believe that there will be a trades shortage if we don't promote our industry, which has so much to offer," Paech explains. "ICM Geelong was formed to encourage people, including builders, to utilise the services of local cabinetmakers – many of them family run businesses – to protect the industry well into the future." By opting for an independent cabinetmaker, you're not only supporting local businesses, but ensuring a strong and secure future for the next generation of tradespeople. The ICM Geelong committee works closely with its members to help them market themselves, as well as provide opportunities for up-and-coming apprentices. As Paech explains, it's important to recognise our upand- coming talent "as these are the cabinetmakers of the future". "It's also a challenge to encourage students into cabinetmaking, with other trades often seen as being far more appealing," he continues. "It is our challenge to show them [that] cabinetmaking is so much more than 'knocking a few boxes together'."
To do this, ICM Geelong partners with Gordon TAFE, as well a plethora of local businesses to help the next generation break out into the industry and give kids the support necessary to succeed. Each year ICM Geelong hosts The Student Apprenticeship Awards, and does so to recognise the "outstanding cabinetmaking apprentices in Geelong and surrounding regions that attend the Gordon TAFE College".
Veteran cabinetmakers aren't left out of the fun either, ICM Geelong's Cabinetry Awards offer a chance for experienced members to garner recognition for their latest projects. Paech explains that these awards started out as just a fun award for the region, but have since become a bit more serious. "Members are invited to participate in the Best Kitchen and Best Small Range Joinery Unit Awards," he says. "Utilising materials from Polytec and / or Caesarstone, work is submitted and judged by a panel of expert judges from both within the design industry and local personalities. Whilst bragging rights still remain the major prize, there are other key prizes up for grabs."
As part of the is goal to support the local community, ICM Geelong has also re-invigorated the annual Trade Night; where cabinetmakers and other industry professionals such as interior designers, builders and architects, have an opportunity to come together and learn from each other, as well as prominent guest speakers. Hosted by e&s Trading, all proceeds from this night are donated to a local charity to further nurture the Geelong community.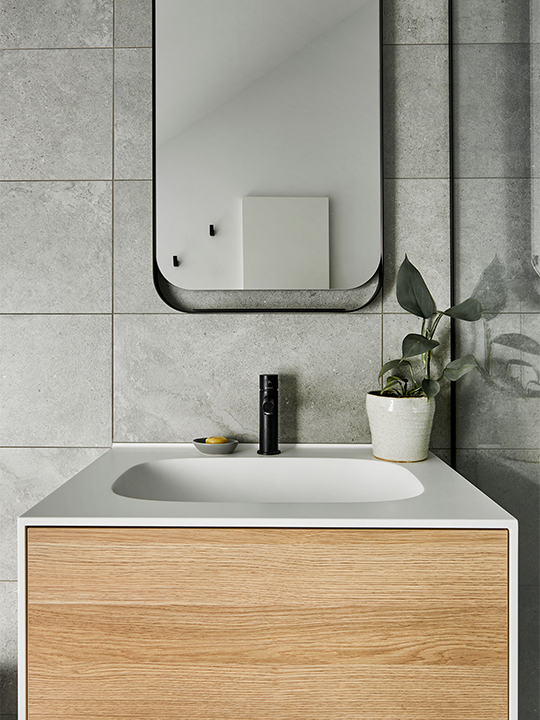 EVERYTHING AND THE KITCHEN SINK
"ICM Geelong cabinetmakers want homeowners to know they do so much more than kitchens and bathrooms," Paech says. Most cabinetmakers offer custom-made joinery for all areas of the home, "including entertainment units, bookcases and desks", and ICM Geelong works tirelessly to "display the variety of work that a cabinetmaker does". The organisation's website and socials are a wealth of information to help you find a professional whose expertise is perfectly suited to your interior. The website is also home to the newly introduced Geelong Style Guide, which showcases a "collection of tips and ideas" from interior designers and related parties, and projects completed by local cabinet makers.
Despite its name, ICM Geelong also represents more than cabinetmakers: "Our members and supporters also consist of related parties such as splashback providers Modglass, Caddan Spray 'n Polish, Geelong Tiles & Bathware, Geelong Marble House, Laminex, Hettich and Wilson & Bradley." Paech says.
By specialising in a particular area, these local professionals are able to master these skills and deliver an expert level result each and every time, meaning you can rest assured that you're opting for a tradesperson whose abilities are uniquely suited to your project. ICM Geelong's "collaborative approach to marketing allows [them] to highlight the work [of] a cabinetmaker in a cost-effective manner", and the organisation provides these businesses with the essential support and advertising that keeps the local industry thriving. By working with an independent cabinetmaker, you're not only opting for personalised service and quality workmanship, but you're supporting your community and securing a strong future for the next generation of local cabinetmakers.
Meet The Locals
KITCHEN + BATHROOM DESIGN SPEAKS WITH TWO OF THESE BUSINESSES ABOUT THEIR EXPERTISE, AND WHY YOU SHOULD
CONSIDER SEEKING THE HELP OF AN INDEPENDENT CABINETMAKER.
JOEL LONERGAN
Owner of Ore Designs
Specialising in architectural fabrication for both commercial and residential projects, the team at Ore Designs boast an impressive 65 years of combined experience and the expertise of two architecture graduates within its design team. The company's director, Joel Lonergan, makes a conscious effort to exceed all expectations with customer service, and has instilled this philosophy across the entire team. As proud Geelong locals, the Ore Designs team have developed strong relationships with other trades in the local industry, and work diligently to maintain these relationships to ensure the best outcome for every job undertaken.
What do you specialise in?
JL: Ore Designs works closely with cabinetmakers to create unique projects. [We specialise in] decorative works, adding the final touches to kitchens and bathrooms, such as steel frames, mirrors, balustrade and handrail options, steel stringers, custom furniture – steel, brass and aluminium – louvres and privacy screens, handles, steel-grab handles, and brass fabrication and polishing. When people come to a cabinetmaker, they are quite often looking for that unique 'wow' factor. Down to the
finest of handle details, through to a large winging gate pane, Ore Designs can take the project to the next level through decorative steel works. Everything is custom designed and made locally.
What's your favourite project that you've ever completed for a client?
JL: My projects are like children, I don't have any favourites!
What are the benefits of opting for a local, independent cabinetmaker?
JL: Geelong has such talented trades people including many cabinetmakers. Gone are the days where you had to go outside of the region to employ a good tradesman. ICM Geelong cabinetmakers are reliable and some of the best in the industry.
What styles are currently on trend in the Geelong area?
JL: Definitely steel frame doors and flat-bar handle rails.
If you were building your dream kitchen, what would it look like?  
JL: [My dream kitchen would include] lots of brass and natural stones.
What do you love most about working in Geelong and it's surrounds?
JL: The ease of travel in the region. The biggest plus is finishing a job and not having to drive far to get home.
If you could give one piece of advice to our readers looking to build or renovate their kitchen, what would it be?
JL: Preparation is the key. Do your research, find out what you like and what suits your lifestyle and budget. And don't skimp on good trades – service and quality go a long way.
SEAN BLOOD
Director of Newgrove Benchtops
Newgrove Benchtops began its life as Newgrove Joinery, a small, four-man workshop operated by brothers-in-law. In 1986, Sean Blood joined the business and eventually purchased the company in 1990 alongside his close friend and neighbour, Dean. After three years, the team recognised the need for a specialty workshop and the decision was made to move away from cabinetry and focus solely on laminated postform benchtops. Today, Newgrove Benchtops employs 25 talented professionals and supplies quality benchtops to the Geelong, Ballarat and Warrnambool areas.
What do you specialise in?
SB: [We specialise in] laminate and solid surface benchtops. Newgrove supplies benchtops to the health, hospitality, [and] education sectors as well as the domestic and commercial market.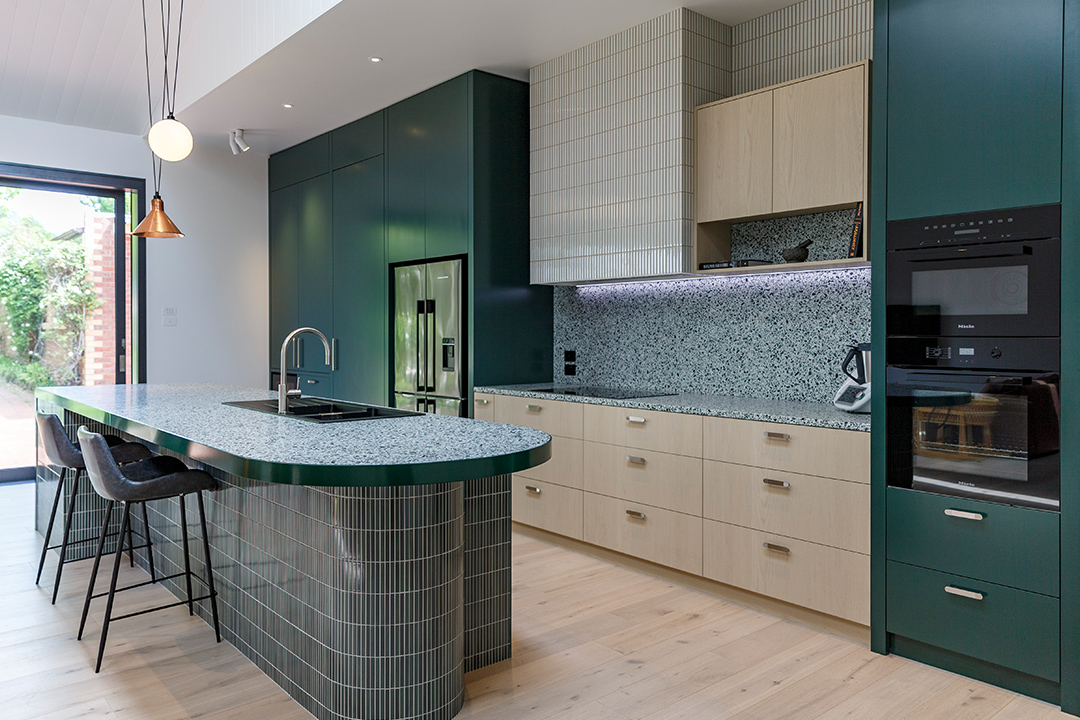 What's your favourite project that you've ever completed for a client?
SB: A recent residential house built in an inner suburb of Geelong that took out a 2020 HIA award (pictured top right). The opportunity to work with a collaboration of Independent Cabinet Makers sponsors and cabinetmakers. Products such as tiles, tapware, white goods, cabinet hardware, cabinet doors and panels, and naturally solid surface benchtops and splash backs. [It was a] credit to all the local trades and suppliers.
What are the benefits of opting for a local, independent cabinetmaker?
SB: Supporting local talent, expert advice, the ability to discuss face-to-face with the tradesman who is building your dream project. Having the reassurance that any follow ups are meeting from a workshop just a couple of suburbs away. Keeping young school leavers skilled and employed with in our city. Knowing that the money and sponsorships stay within the community.
What styles are currently on trend in the Geelong area?
SB: Curves are back! Centre island bars, wall and bedside units, and hand painted slimline shaker doors, drawer fronts and panels [are in style at the moment] Matte and satin finishes have [also] been popular for some time, [with the trends] shying away from high gloss.
If you were building your dream kitchen, what would it look like?  
SB: I am [currently] restoring a 100-year-old weatherboard house. I have chosen Polytec 'Oyster Grey' thin shaker-style doors and drawers. I've also opted for brushed brass hardware and a sink with solid surface benchtops. The flooring is European Oak parquetry [and] I think the matte paint will make a good contrast.
What do you love most about working in Geelong and it's surrounds?
SB: The people are friendly and [I love] the ease of driving from site to site without congestion. It takes me seven minutes to drive to work in the morning.
If you could give one piece of advice to our readers looking to build or renovate their kitchen, what would it be?
SB: Pay the money use a designer! Even if you think you are 80 percent there, it can be reassuring [to have a professional opinion]. You may be doubting your selection, or your partner may have a different view.
Images courtesy of ICM, Newgrove Benchtops and Ore Designs.
Photography by Nikole Ramsay and Pam Hutchinson