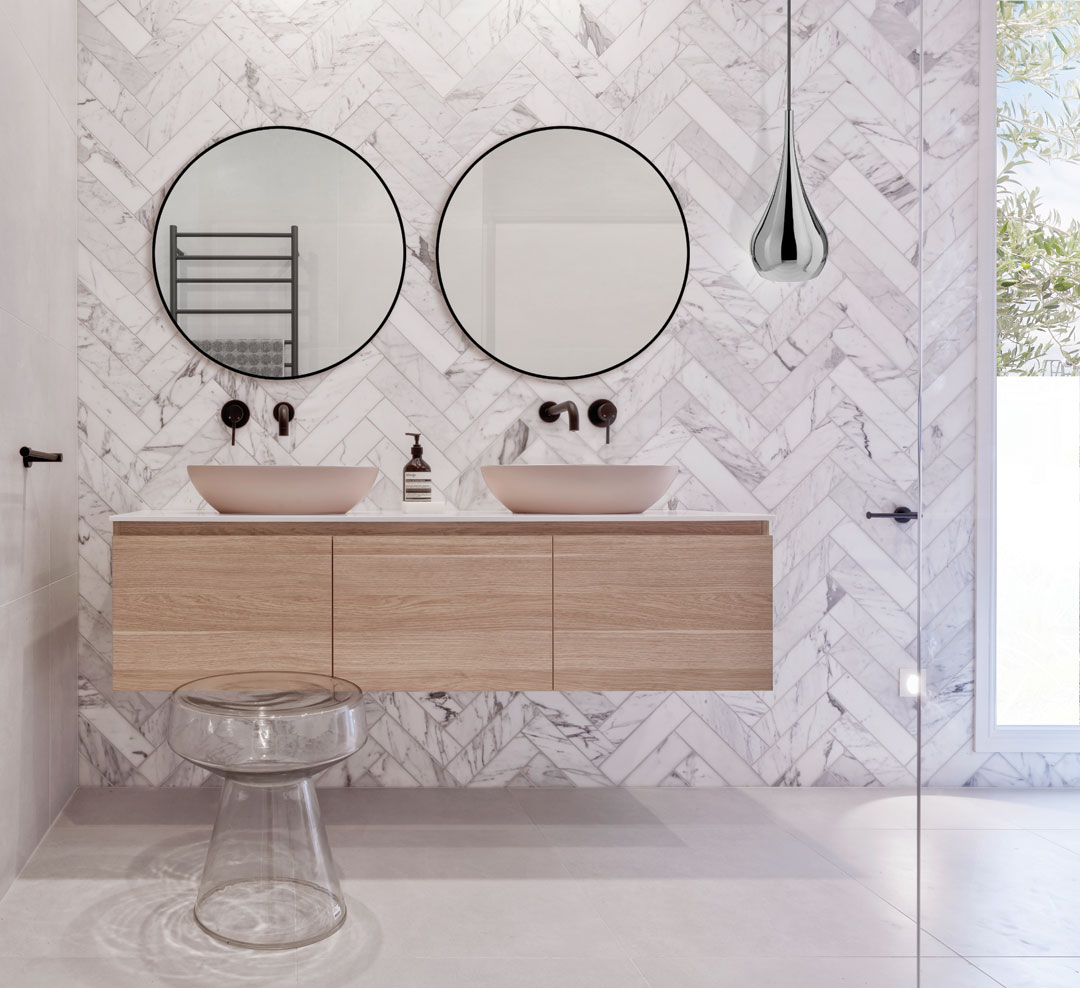 Redesigning a tired bathroom can be just the freshening touch-up your home needs. Creating a bathroom that is both stylish and functional is the goal, and there are many considerations involved in this process. Catherine Doedens speaks with Liz Staynor, the director of Simply Bathroom Solutions, to help you with your bathroom transformation.
Stuck with an old bathtub, or an out-of-date feature wall? From choosing a colour scheme to sourcing a qualified electrician, there are many ways to ensure your new bathroom design is as stylish as it is functional.
Before you start knocking down walls with excitement, consolidate your vision for the space and take the time to imagine what your ideal bathroom looks like. Do you want a light-filled, rustic look with wooden accents, or perhaps you're after a more contemporary aesthetic with dark tiles and subtle pops of colour? No matter the style, it is vital to engage a professional prior to construction. "Consider enlisting the help of a bathroom design and renovation company, and make sure they are licenced," Staynor says. Involving a bathroom renovation company in the design process can be helpful for obtaining new ideas and ensuring you don't set unrealistic expectations about the space you have.
Ultimately you want your bathroom to suit your current and future needs, so having concrete ideas about what you like and don't like, as well as any limitations, will keep you in good stead for an enjoyable renovation experience.
Further, setting a budget and sticking to it is also important for a successful renovation. "If you have time to do some homework [beforehand], visiting a company that sells tapware and bathware will give you an idea of what products cost," Staynor says. Consulting with your designer when purchasing items such as the toilet, showerscreen, bathtub and sink will ensure a smooth process and assist you to keep within your budget.
For those wanting a complete bathroom overhaul on a budget, you can modernise the space by "retiling your shower recess and bathroom floor, repainting the walls and decorating with a nice piece of artwork", Staynor adds.
ALL IN THE DETAILS
During a renovation, smaller fixtures such as door hinges and cabinetry handles are often overlooked in the midst of all the changes, so be sure you aren't forgetting to swap these out or spruce them up.
A great way to save on costs is to take a look at all your existing fittings, fixtures and surfaces that are perfectly functional, and simply give them a fresh coat of paint. A small change such as this may also help offset the cost of some luxurious bathroom additions such as a freestanding bathtub or a wall-mounted vanity unit. For a more spacious bathroom, mirrors are a great for opening up the room. Similarly, installing a shower niche is a sleek and subtle alternative for creating space to store all your shower essentials.
When selecting your décor elements, remember that the less cluttered the room is, the better. Adding a feature pot plant for a pop of colour or, if you have the space, opting for a piece of statement furniture can provide your bathroom with plenty of visual appeal. For timeless simplicity, pale marble-look tiles exude style and sophistication in equal measure.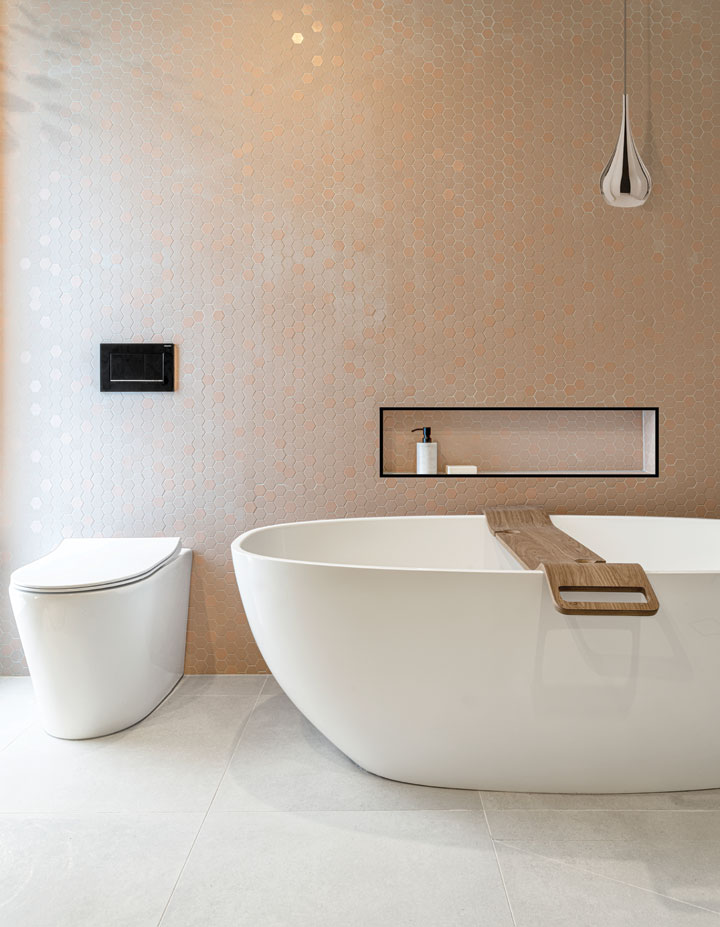 THINK PRACTICAL 
While choosing the features and colour scheme of your bathroom can be a fun process, it can be easy to forget all the practical elements that need to be considered. According to Staynor, a bathroom renovation can generally take up to four weeks; allow a few more weeks if you require a custom-made vanity or a frameless showerscreen.
If you're thinking about installing wooden window frames, selecting a hardy timber as well as a high-quality sealer is vital for ensuring a long-lasting result. Ensuring the room is wellventilated will also help to maintain the quality of the wood.
Staynor urges renovators to remember that a product can be both functional as well as beautiful. A handheld shower head on a slide rail allows for easy adjustment, and a frameless showerscreen will significantly reduce maintenance and cleaning time.
While hiring a qualified electrician may seem obvious, it's incredibly important and a step not to be missed. Consulting an electrician can assist with increasing the energy efficiency of your bathroom in the long term, and will ensure that the job is done properly, reducing the risk of having any problems later down the line. For an energy-saving result, Staynor suggests installing double-glazed windows, underfloor heating and heated towel rails, as well as insulating the walls, ceilings and sub-floor area. "Hydronic heating is a great long-term investment," she adds.
While there's a lot to consider when embarking on a renovation project, there's plenty of inspiration and advice available to you, which means your dream bathroom is well within reach.
Simply Bathroom Solutions is a licenced building company specialising in bathroom, kitchen and laundry renovations. Experienced with difficult builds and heritage-listed properties, the company has won the Best of Houzz Service Award for the past four years.
Photography by Paul Carland of East End Design