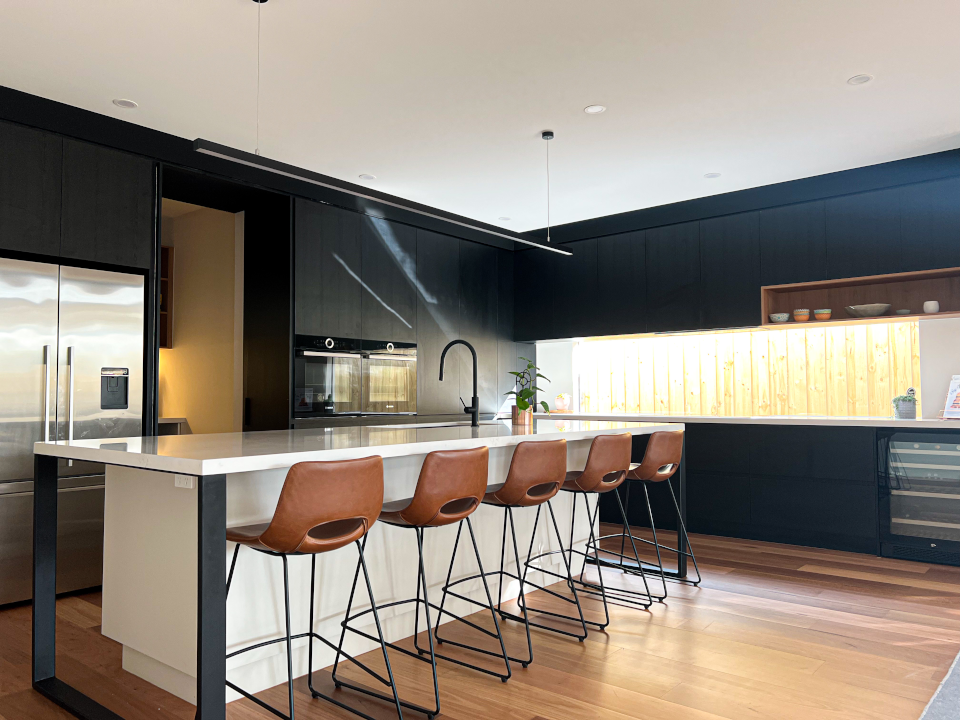 Home Is Where The Heart Is
With countless competitors in the design and construct industry, Mode Group stands out amongst the crowd with its wealth of knowledge, experience and creativity. Homeowners long for a harmonious design and construct process, ultimately confiding in the builder along the way with the aim of seeing out the client's vision. Aoife Butler from Melbourne Kitchen + Bathroom Design magazine sits down with Ryan Goodwin from Mode Group to discuss the development of his business, the various styles of projects they deliver to clients and why his company is known as the home of bathroom and kitchen renovations.
At Mode Group, houses become homes and Goodwin and the company are dedicated to providing a quality service for homeowners all over Melbourne. If you have been thinking about renovating your home and are
looking for a custom design and service that exudes professionalism and integrity, then look no further than the Mode Group. The company is dedicated to creating remarkably stylish kitchens and bathrooms and are the market leaders in design and construct renovations. Read on as Goodwin and I delve into what makes this company unique and incredibly sought after.
A SELF-MADE STARTUP
The company was launched in 2009 after a gap in the kitchen and bathroom renovation space was identified in response to the lack of good quality, credible and honest builders. Since Mode Group's launch, Goodwin and his company have been kept busy and continue to reach further heights within the industry.
Adopting a holistic approach, Goodwin wanted to include all aspects of design, construction and project management under the one roof. Today, Goodwin states that the team consists of "carpenters, interior and building designers as well as dozens of quality contractors specialising in renovations". Having rapidly grown its team and required knowledge over the last few years, the company's expertise and processes have also adapted to this expansion, meaning Mode Group can remove confusion and concern from clients when it comes to planning their project.
In 2018, the company moved into its new showroom at 124 Bayswater Road in Croydon. Here homeowners can meet with members of the team to discuss their upcoming project and be guided through the design and selections process. Mode Group's dedicated team advises clients at every step of the way to ensure that they are properly informed, educated and confident in the decisions being made.
STYLE MEETS FUNCTIONALITY
Mode Group is well known for beautifully designed bathrooms, kitchens, laundries and walk-in wardrobes. What makes this company stand out amongst its competitors is its range of services offered. The company oversees the inception, design and fully
manages the building process from start to finish, offering customers an exceptional first class service. Goodwin describes a recent project completed by the company where they successfully created a stunning chic and functional space for the homeowners to enjoy for years to come.
Goodwin notes about the project, "the clients were after a beautiful open, modern look for their kitchen. Having done extensive research, they had clear ideas on the look and feel that they were after. The goal was to achieve an effortless, modern look that was streamlined yet still retained an inviting warmth that was welcoming and impressive". With all the cabinetry giving a beautiful finish in laminex black pure grain, the kitchen was designed with a particular modern industrial look in mind.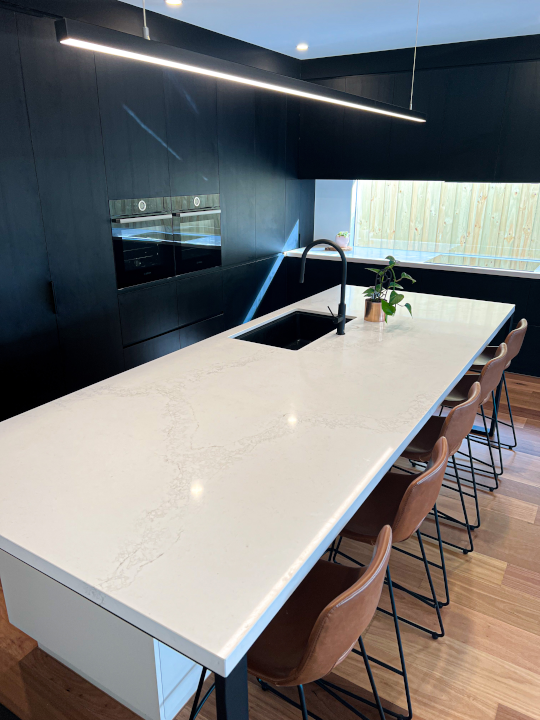 Goodwin's company caters to all styles of kitchen and bathroom renovations "to create a bespoke design to suit each client's needs and personal style," he says. These kinds of projects are Mode Group's specialty. The team at Mode Group are ready to take your dreams and make them a reality.
ENCOURAGING CREATIVITY
The company has seen recurring trends in relation to kitchen and bathroom design. Brushed brass, earthy tones, a lot of texture and mixed materials seem to be popular styles in the market today. In terms of functionality and trying to bring these stylistic details to life, Mode Group uses materials such as reconstituted stone, engineered and laminate flooring and laminate timber look joinery to provide a functional yet beautiful premise for its clients.
As the company aims to create bespoke custom designs, Goodwin and his team are more than aware that designs evolve with the trends. People are particular about what they want and more and more homeowners are aiming to inject some personality into their home – creating a loving and personal environment for family and friends. Goodwin expands on this saying, "As the industry has evolved, we have found our clients have as well. People are very passionate about their homes and we have found ourselves designing for them personally, instead of appeasing the masses. Kitchens and bathrooms have evolved from being used purely for function and are now used as a personal expression and integration into the rest of the home."
Goodwin reminds us that "It is not only about the end product, but the clients experience throughout the journey". If you are ready to commence your design journey for your new home or thinking about sprucing up your old kitchen, Goodwin's final advice to homeowners everywhere is as follows: "Engage with people who will listen, educate and execute your vision."
Images courtesy of Mode Group