Inside The Integrated World
Space-saving, sleek and ever-synonymous with the notion of a contemporary kitchen, an integrated appliance is one that is fully panelled and easily concealed behind kitchen joinery – creating undeniable cohesion in your kitchen. Promoting clean linear lines, vast design freedom and the illusion of a larger overall kitchen space, integrating appliances into your home's hub requires the knowledge of the professionals.
To seek just that, Bethany Hayes sits down with a range of Melbourne's most knowledgeable kitchen experts, who each weigh in on the benefits and limitations of integrated appliances, and how you can maximise your kitchen's design to ensure it remains a lasting, functional space.
Camberwell Electrics Designer Appliances' digital manager, Kevin Collins, and kitchen sales manager, Sonia Antonello, fuse their collective decades of kitchen design experience to craft the ultimate homeowner's guide to integrated appliances – while also offering advice on creating a free-flowing, practical and visually appealing kitchen to last.
As one of the oldest electrical retailers in Victoria, it's no surprise that that the team at Camberwell Electrics Designer Appliances are brimming with knowledge on integrating appliances into your kitchen space. Having helped countless homeowners bring their kitchen design dreams to life, Collins and Antonello encourage homeowners to allow adequate time for the entire process to take place, opt for clean kitchen lines, work alongside experienced
industry professionals, and not to forget important details like panel texture and handles.
FIRST THINGS FIRST
For the everyday homeowner seeking style and finesse, the technical kitchen terms such as 'integrated' or 'built-in' can often be misunderstood or overlooked. As an understanding of your wants and needs is crucial before undertaking any sort of kitchen construction or renovation, it's important to also understand what these terms are, and how they differ from one another.
"Integrated, to talk in the language of architects and builders, [refers to] when they make a panel fit on the front; to conceal an appliance behind doors and give it that 'clean lines' look," Antonello explains. "Built-in [refers to] literally making a cavity for the appliance to fit in, and making it look neat," she adds. When comparing a brand-new kitchen to a renovation, Collins points out that renovations are most suited to built-in appliances, whereas building brand-new is more likely to "investigate the integrated look with a whole new kitchen and sweeping panels".
So, why integrate your appliances? With ample market demand for an integrated and free-flowing kitchen, more and more homeowners are seeking a clutter-free space; one with visually appealing clean lines, that is one cohesive area – as opposed to a mismatched kitchen, with cabinets of varying heights and lengths. As Collins explains, the modern kitchen is all about an even line of sight; something integrated appliances enhance significantly. "When we walk into a room, there is an unconscious awareness of what is happening in the space of that room," he affirms. "If a kitchen is done well, you don't realise it – because it is all subconsciously happening around you." Collins advocates for homeowners to seek the help of a professional designer
– and cabinet maker – when travelling down the integrated road; ensuring each aspect of the kitchen meshes, and the result is clean datum lines, lasting style and cohesion. "The danger is: are you doing it yourself, or are you hiring a professional? The danger with DIY is that [the kitchen can appear] mismatched; it's a bit of this and a bit of that," he details. The simple solution?
Engage a trusted professional that can help you implement your vision in a practical way. "A professional consultant will first of all want to clean up [the kitchen's] lines," he says.
THE DO'S AND DON'TS
The nature of the integrated appliance means it is camouflaged into your kitchen's joinery, therefore making the kitchen seem like the one big, uniformed space with a "clean line of sight". When asked what appliances can be easily integrated into the home, Collins and Antonello list fridges and freezers, dishwashers, rangehoods, washers and dryers. The appliances the pair wouldn't recommend integrating are ones that need to be exposed for homeowners to use them – think taps, sinks and ovens. "Fridges, freezers and dishwashers, particularly in small spaces, you would integrate all of them and it offers nice, clean lines," Antonello affirms. "Integrating gives the illusion of a bigger room as well," she continues. "So for those kitchens that are small, [integrating appliances] gives the illusion of a larger overall space."
For the baking connoisseurs, the oven is one appliance to leave exposed – especially so you can monitor your food as it cooks, and have that easy access. "Generally ovens are exposed. Some people love to see them in the kitchen, depending on what they've got," the kitchen sales manager explains. To create an integrated kitchen, the pair stresses that homeowners need to allow for enough time for the entire process to be done properly, particularly if the homeowner is looking to shop around. "The initial stage is creating a wish-list – what a client wants. And then of course consulting with their architects… and then the elimination process starts," Antonello describes. If you're stuck on where to begin for your integrated kitchen vision, look to the wisdom of your joiner. "For [anything] integrated, you need to have the joiner involved at some stage," Collins notes. "The joiner can often provide, because of their wealth of experience, the concepts."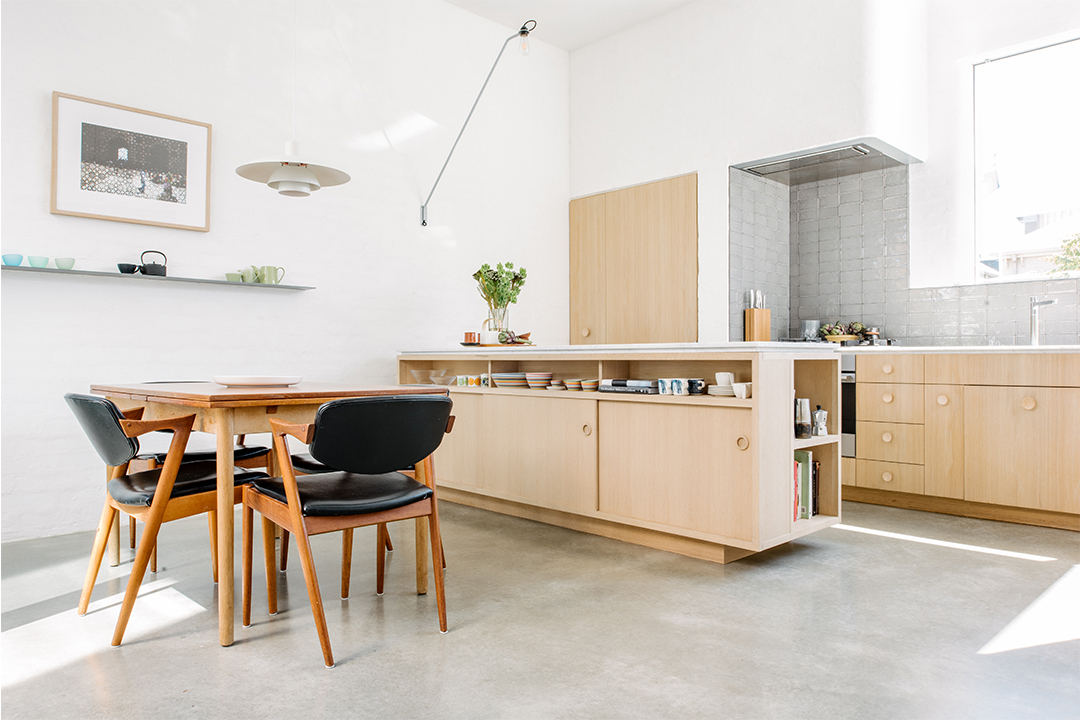 MONOCHROMATIC AND MODERN
Collins urges homeowners to opt for a well-designed kitchen, over something purely fashionable – as trends come and go, but a proper design and clever style remains ever-present. "We're finding in the last ten years too that white and black are very in. A lot of people are doing white kitchens with black appliances, or black kitchens [also] with black appliances. We're finding it's more shades that are in at the moment," Antonello adds in the discussion. "If you talk about trend at the moment, there's a lot of brass, and a lot of copper. That is very, very in," she affirms. "But what we're finding is 'safe' is
black and white."
Aside from allowing for a seamless kitchen, and the illusion of additional space, an integrated appliance also allows you a lot of creativity when it comes to panel and handle choices. "The advantages with your integrated
appliances is that you can play with the panels; you're experimenting with it. It's not just colour – it's texture. You can choose different colours, different textures and different handles," Collins remarks. While your joinery's handles may not be at the top of your priority list, they are an important consideration for your kitchen's overall appearance and its functionality, plus a chance to infuse some of your creative flair! "For a lot of people the handles will come as an afterthought; but the handles can make or break your project, because it comes down to that subconscious look and feel – so if you walk into a kitchen and it hasn't been done right, all you are hit with is handles!" 
So which appliance brands will be most effective for integration? That depends on your preferences and the style of your kitchen. Some homeowners prefer to opt for a kitchen replete with an entire brand, while others will pick and choose based on their kitchen space, preferences and recommendations. When choosing such appliances, it's important to also consider what your goal is for your kitchen; is it your forever kitchen, or will you be looking to move in the future? "Are you doing this kitchen for yourself, or are you doing it for resale value?" Collins encourages homeowners to ask
themselves. "Certain brands will add [value] to what you are doing, and that comes down to resale – for example a full SMEG kitchen."
Urging clients to always begin their renovation or build with the end product in mind, the pair flag that the installation of a single high-end appliance, won't
itself make a kitchen high-end overall. "By sticking with the one brand grouping, you can get consistency with what you're doing, which means resale value," he adds. Antonello explains that Camberwell Electrics Designer Appliances always carry several different options of each item in a range – from cheaper 'entry level' products, through to a mid and high-end look, all while remaining uniformed in the kitchen's appearance. "SMEG have got their beautiful Dolce range, their classic range, their linear range. It fits the market for all categories; their look integrates itself," Antonello says.
If you're choosing to travel down the integrated pathway, and delve behind closed cabinet doors, be sure you're dealing with an accredited professional that will help you add value to your kitchen as a whole. "It's not just about price, you're going to want to deal with someone who is actually going to look after you, and go with the end product in mind. It's not just a look, it's the feel, it's the delivery, it's helping with the installation," Collins affirms.
Providing Australia with premium cookers and fridges from the likes of iconic brands Liebherr and Falcon, Robin Werth, marketing manager at Andi-Co Australia, offers his advice on integrating Liebherr's luxurious fridges and freezers into your kitchen, and discusses the latest trends at the forefront of modern kitchen design.
Liebherr's refrigeration and freezer equipment exudes undeniable class and quality from its appearance through to its function. Known to be energy-efficient, reliable and opulent, a Liebherr appliance is synonymous with luxury. To decipher the most effective ways of integrating these appliances, Werth shares his knowledge with readers, and decodes installation and ventilation strategies for ultimate integration success.
LET'S CHILL
As arguably one of the most important appliances in your kitchen, responsible for keeping your food fresh, it's important that the fridge you choose is one of
quality. If you're looking to create a seamless kitchen appearance overall, integrating your fridge and freezer into your joinery can be an excellent option. "Fully integrated fridges and freezers are counter-depth and completely flush; 'hidden' behind matching kitchen cabinetry. In effect, they look just like a kitchen cabinet," Werth explains.
For the appliance itself, Werth flags European brands as having an outstanding reputation and long warranty period – and he encourages homeowners to also look for an appliance with a longer warranty period, which is typically an indication of the appliance's quality. "Generally a European brand with a substantial history and a long warranty, such as Liebherr, which offers a five-year warranty, is a signifier of a quality offering," the marketing manager explains. "Other things to look for are the quality of the door hinges and the weight that those hinges can hold, as this will have a bearing on what material you can use for the door panel."
THE COLOUR OF SUCCESS
There's no doubt that colour preferences in any context are subjective – and especially in the context of kitchens, with every homeowner favouring something a little bit different. When it comes the colour and finish of your cabinetry, Werth mentions that "current trends are for lighter finishes, blonde or 'naked' woods". "Blacksteel is also a current favourite in fridges and freezers as it offers a classic and timeless finish. The Liebherr Blacksteel also offers a fingerprint-resistant finish, so it is always easy to maintain and keep clean."
The monochromatic colour scheme abundant with shades of black, white and stainless steel, is certainly one being favoured in 2021. With its versatility, complementary décor options and balanced palette, it is not hard to see why many homeowners are opting for such flexible shades. "Black glass wine cabinets are also a classic and highly sort after, with a luxurious and premium finish."
TRUST THE EXPERTS
Regardless of whether you are building an entirely new integrated kitchen, or integrating just a select few appliances, be sure to consult with a professional so your kitchen can be as functional as it is cohesive in its design. "Work with an experienced kitchen designer and installer who has experience with integrated appliances and who will take your needs into the design of the kitchen, and the integrated appliances will pay-off in the long run," Werth affirms. "Taking the time and effort to plan out your kitchen, [such as] ensuring there is adequate distance between appliances and making sure there is enough ventilation of the integrated appliances, and that you can access services such as taps and electrical is vitally important. An experienced kitchen designer will take all of this into consideration." 
As the experts in all things rangehood related, it is only fitting that Schweigen's director of sales, Anthony Fletcher, shares his insights on rangehood and kitchen appliance integration, while also contributing his extensive knowledge about delivering your kitchen vision into fruition.
Being integrated into the kitchen "more so than ever before", integrated rangehoods are specifically designed to neatly fit under an overhead kitchen unit. Sleek and discreet in appearance, the integrated hoods "save space by
taking up room typically occupied by cabinetry", making them extremely effective in tight spaces or where there is limited floor or surface area. Come
with us as we dive into the world of integrated rangehoods with Schweigen's expertise, and unearth your kitchen's inner clean-line potential.
PUTTING THE RANGE IN RANGEHOOD
When asked what a homeowner should look for in terms of a quality integrated kitchen, Fletcher highlights the need, first and foremost, for an innovative design. "[A homeowner should look for] an innovative design with user-friendly features and controls, a quality construction and build, accessibility for ease-of-cleaning and maintenance, silent performance and energy efficiency, [as well as] exterior ducting to vent heat and exhaust where necessary," he notes. Carrying the largest rangehood catalogue in Australia, Schweigen offers homeowners unlimited options from its extensive range of "canopy designs, sizes, functions and motor options to fit any design and cooking style" – making the company incredibly flexible at meeting your kitchen's requirements; no matter its size or style.
For homeowners looking to stray from a new build, and instead renovate their kitchen to become one of integrated nature, the process can become slightly
more complicated, but nonetheless still possible. "That's where architects, designers and builders have been creative in incorporating even our wall-mounted rangehoods behind cabinetry, or integrating our ceiling cassettes directly into false ceilings, bulkheads and also ductwork behind [the cabinetry]," Fletcher explains. "Small, mobile appliances could be integrated into pigeon-hole shelving, with the proper electrical cabling and allowance for heat dispensation."
Catering to the demand for monochromatic shades, the director of sales flags how Schweigen's rangehoods and exhaust fans are available in a range of colours and finishes; from stainless steel, white or black, and even shiny or matte finishes to "fit seamlessly in any kitchen design". "As part of our ongoing efforts to allow greater product customisation, customers will soon be able to
select their rangehood in any colour offered by Dulux Australia," he reveals.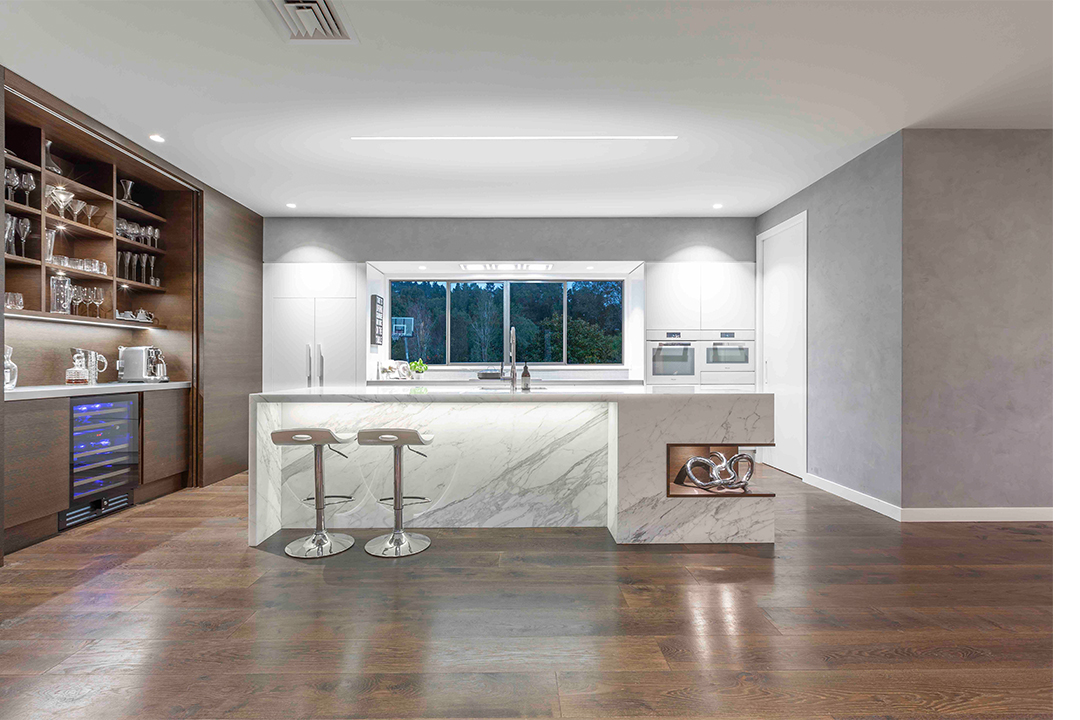 DESIGN DETAILS
With its centralised position within the home and communal appeal, it's imperative that your kitchen meets your family's needs, while also boasting state-of-the-art, functional appliances. When looking to immerse yourself in the integrated world, particularly in the form of rangehoods, you need to plan your space with the desired appliance in mind. "Always factor the rangehood
into your kitchen design, and not as an afterthought!" Fletchers attests. "It could be the crowning glory in your kitchen design as a critically functional showpiece. Or it could be sleekly integrated into the ceiling, bulkhead, false ceiling and cabinetry – partially or wholly – to suit your very own needs and preferences."
The current preferences for clean, straight lines in the kitchen is certainly evidence of the present era's design evolution – matching the trend of minimalism that has sauntered through home and kitchen design over the past few years. Favouring linear lines and squares over curves in kitchen joinery, the appliances themselves are also reaching new heights when it comes to their workability and unique functions. "These appliances are increasingly becoming more sophisticated in functions they can provide; [including] lighting, ventilation and heat transfers," he explains. "So getting a handle on what's available gives you more flexibility in futureproofing
your kitchen for your specific needs."
The integrated world would simply not be possible without the professionals, and Fletcher advocates for homeowners to do exactly that. "Always plan and
consult with product experts, installers and cabinet makers to ensure that proper allowances are made, and that appliances are always installed in compliance with state regulations."
With the challenges of 2020 meaning homeowners enjoyed the company of their own kitchen more so than ever, Fletcher mentions the notable increase in homeowners wanting quality appliances with multiple functions. "Under the new COVID-19 paradigm, there has understandably been a corresponding increase in demand for quality, innovative and sophisticated appliances that perform multiple functions – simultaneously and well."
Your kitchen is your space – a place to relax and unwind, create culinary delights and share delicious meals with the people who mean most to you. Creating crisp, clean lines, visual cohesion and space, integrating appliances is an adventure with ample rewards. If you do choose to travel down the integrated path, do so with a team of professionals you trust, and the results will be more than worth it. "Establish a clear design vision and goal. Speak with experts to visualise it in 3D first to [help] clarify and refine, and then work with them to make it your reality," Fletcher tells readers. "Most importantly,
enjoy the process!"
Images courtesy of Liebherr & Schweigen