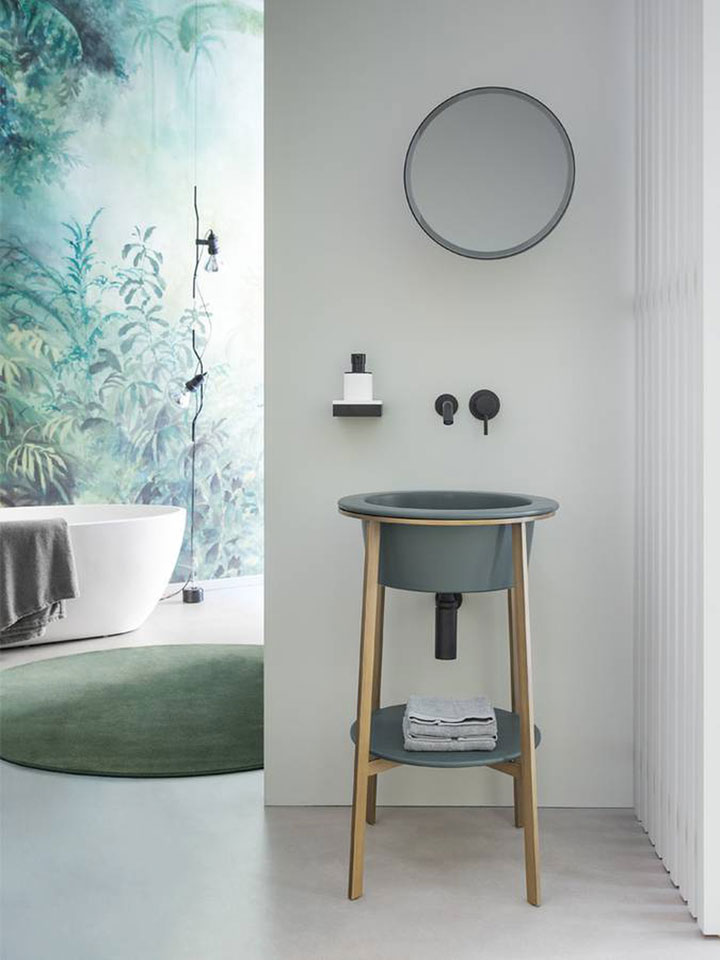 Justin van Nierop is the managing director of Richmond-based Design Precinct, one of Australia's premier purveyors of world-class bathroom furnishings and finishes.
Words by Georgia Jordan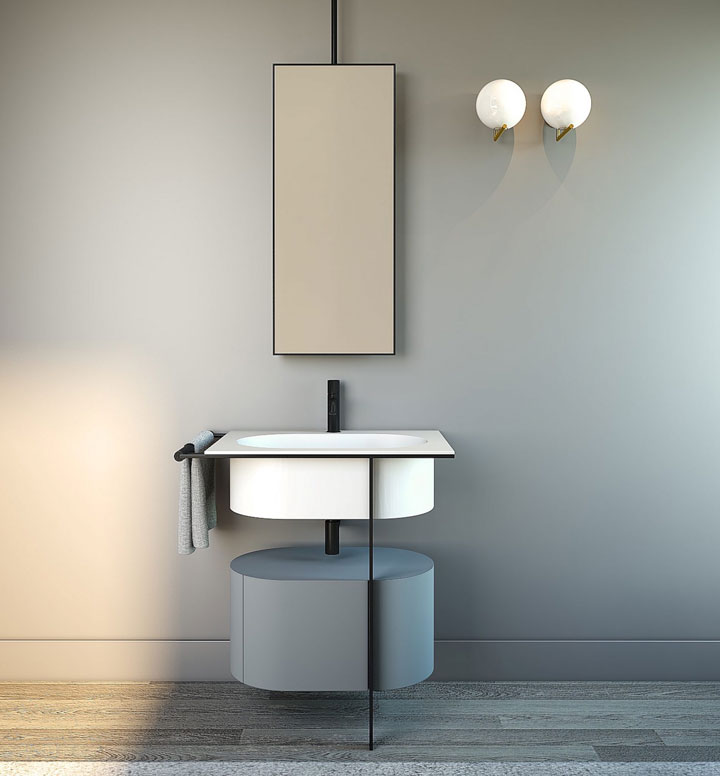 What is Design Precinct in a nutshell? 
JVN: Design Precinct formed as a complementary offshoot of Urban Edge Ceramics with the vision of bringing to Melbourne the best of Milan in wallpapers, porcelain slabs, bathware, tapware, tiles, timber and furniture. Our products are characterised by natural minerals and waterproofed fibreglass surfaces, and currently include high-quality porcelain and ceramic tiles and bathware, engineered-stone bathware, hydronic and electric heaters and towel rails, as well as brass and stainless steel tapware.
What originally sparked your passion for interior design? 
An ever-present love of the interplay and storytelling of product collages.
Where does Design Precinct source its products?
We source from a broad spectrum of Europe's finest manufacturers who are the original designers of our product base. These factories practice and follow a belief system similar to our own at Design Precinct, which places high importance and value of integrity and originality of the products designed.
What is your signature style? 
We offer a diverse collection of materials, placing importance on the fine workmanship and creativity of handmade collections, as well as highlighting the fast-growing movement of sophisticated technologies to develop products we have never seen before. Our brand is focused on delivering stylistic packages to our clients with products that assist in showcasing personality and identity as well as emotion.
What are the defining qualities of Design Precinct products?
Design Precinct focuses on delivering quality and unique products that are produced and designed by the original creators. No product in our showroom is a copy of another. We ensure the products are of original intellectual property. Design Precinct also places significant importance on environmentally sustainable practices by the factories we are importing from. It is vital that we play a role in creating a sustainable future.
What are your top tips for designing an interior? 
It is extremely and utterly important to look beyond the space and delve deep into the emotions and reactions you would like to express and experience with texture, light, colour and focal points. It is about ensuring that the space is harmonious in that the pieces selected are an extension of each other and identify with the audience of the space being occupied. We have built our 'precinct' to spark an imaginative state of mind and expose the infinite opportunities as well as the storytelling within the boundaries of our walls. This is something we like to apply to our client's interiors and spaces.
Can you please describe the process of creating a Design Precinct interior? 
Our staff are qualified interior designers, which means we hold the hand of our clients to help guide them through their projects from start to finish. We offer solutions and styling packages that are uniquely created for the individual. For those who need in-depth consultations, such as creating a concept, mood board, imagery and require us to translate their thinking into a visual reality, we offer design consultations which is a highly valued service. We are happy to work alongside our client architects and designers as well. Many architects collaborate with Design Precinct to bring their clients into our showroom to meet with us and work through each of their projects. We are here to support and provide our expertise and knowledge of our products to find options that are best suited to your vision.
Can you tell me about a recent project that you completed? 
In a recent highly memorable job, I worked on an architecturally designed house built in the interwar period and currently owned by very proud clients. We were enlisted to deliver harmony and unity in a sympathetic blend of contemporary and interwar design principles. In order to achieve this, we used a stunning product, a small-format tile called Diarama of 93mm x 185mm designed by Hella Jongerius and Mutina. Diarama caused colour and compression on certain walls, so we counter-balanced the space with large-format porcelain tiles of 1200mm x 2400mm. We also used coloured matte glazed bathware from our Cielo series, and tied it all together with complementary Design Precinct tapware.
What defines a high-quality interior product? 
Integrity through [respect for] intellectual property, tactility, strength, and uniqueness. A quality product emits passion and positive emotive responses; it tells a story beyond its physical existence.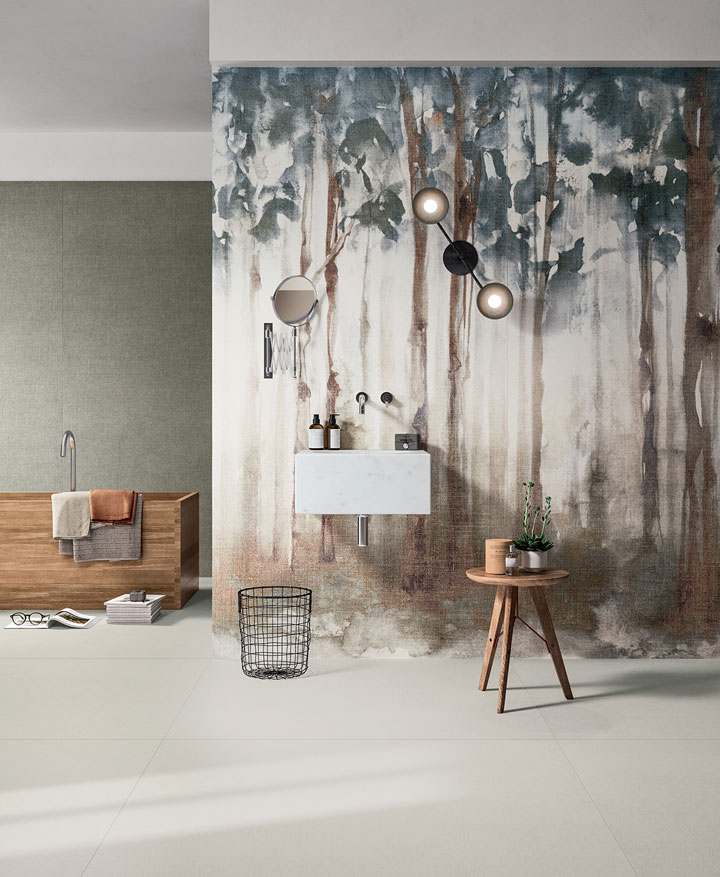 Why is it important to prioritise quality when choosing interior products? 
Quality will always trigger enthusiasm and pleasure for many, many years. A good-quality product offers more than its intended purpose; it isn't just a wall covering or a tap that turns water on. It is a sophisticated design that once again delves into the creation and thought processes behind the formation of the piece. Whether it be the high pixelations and works of art on our wallpaper surfaces, plus the proportions and scaling of an image to a space, or tapware that is crafted with passion and delivers matte, polished or brushed surfaces that oozes excellence rather than a mass-produced product which peels away in time.
The tiles that decorate the foundations of your home can take you through a building situated in Tuscany that has aged through thousands of years. Not to mention [the feeling of] running your hand over an undulated, tactile surface and awakening that inner craving to touch and imagine being on a journey through the world. Quality generates confidence rather than anxieties. Quality kindles desire.
What were your impressions of Milan Design Week 2019?
I was overwhelmed and delighted to have been introduced to the works of Cristina Celestino. For those who do not know much about Cristina, her world is spoken through pastel colours that touch on nature's wonders. Retro-futuristic styling, including geometric influences, gleams through her products and spaces with rich materials like ceramics, marbles and carpets. Cristina has recently collaborated with CEDIT, our exclusive brand of large porcelain panels, to [create] a range that emulates marble and marmorino. The Polichroma collection emulates Cristina's use of both the sea and the land, using coral tones and colours from candied fruits, as well as arch forms.
CEDIT certainly challenges designers to experiment. It is a company that's not only focussed on ceramic cladding and artisanal designs, but rather one that is technologically advanced enough to be able to create prints and moulds. I was incredibly grateful to be able to supply this unbelievably advanced brand to Australia. CEDIT had also entered collaboration with Francisco Pepe, who has introduced a range called Araldica. If you were to see this product in the flesh, Pepe's visualisation and psychology has been expressed through hypnotic textures, fascinating configurations and variety of colours mixed and swirled together, inspired by those of traditional marbled papers.
Matteo Brioni's new launch Arazzi is nothing like I had ever seen before; a clay modular system with curved corners that is formatted as an irregular form, it is to be used over a foundation to create a layering piece and picture for the entirety of a wall surface.
What is your main piece of advice for readers who are about to embark on their first interior design project? 
Do your research and look beyond; you will be surprised at how many little tucked away, hidden, and best-kept secrets Melbourne has to offer in the design world. Do not fall into the trap of [blindly] following trends witnessed on reality TV programs or feel that the only place you can walk into the doors of is a supplier broadcasted all over radio. Remember to appreciate the creativity behind a design; pick up an item and explore the emotions that are triggered. Create a unique space that is special to you and your home or business by selecting materials that are of great quality. A good design will never date.
Images courtesy of Design Precinct