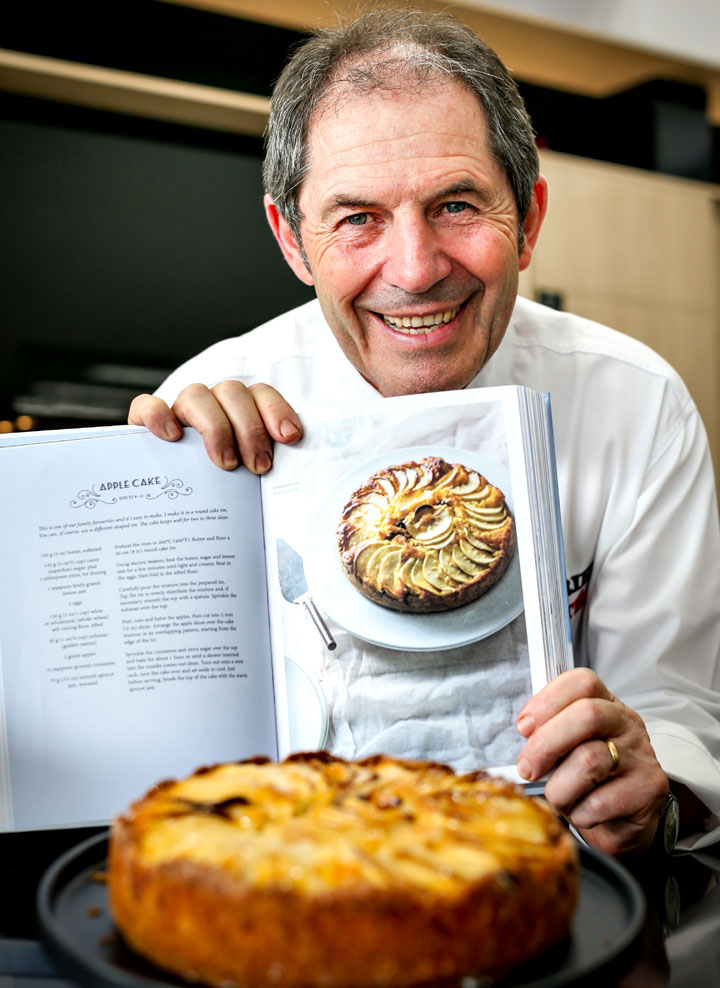 Despite his long and illustrious career spanning across decades, Gabriel Gaté's fondest memories are still of cooking for his family. "It is a joy to cook for others, and I have [proudly] been a chef for about 18,000 days," he says. "I have cooked for the Queen of England and other members of royalty, as well as celebrities, including Bob Marley and Ringo Starr, but serving a special meal to my wife and children [is what I enjoy the most]."
Words by Jacqueline Maya.
Food is a source of joy and happiness," Gaté explains. "It is a great bonus in life if you can cook for yourself and others." With this ethos at the heart of every new pursuit, the renowned French chef and brand ambassador for Camberwell Electrics has lovingly crafted So French So Sweet, a sweetly sentimental cookbook that pays tribute to his love of French desserts.
In celebration of his 24th cookbook, Gaté sits down with Melbourne Kitchen + Bathroom Design to discuss the inspiration behind the recipe collection, and provides some helpful cooking tips to ensure life is as sweet as can be.
What can you tell me about your new cookbook, So French So Sweet?
GG: So French So Sweet is a collection of French classics, and some of my most treasured sweet recipes. It focuses on fresh, seasonal fruits and home-style desserts. I hope to show [readers] just how simple it is to create delightful treats that everyone can enjoy.
So French So Sweet has been described as a love letter to patisserie, baking and sweet treats. What dessert did you love the most growing up? 
I have wonderful memories of the fruit tarts that my grandmother would make using fruits from my father's garden. I especially loved the strawberry and plum tarts.
Do you have a favourite recipe in the book?
I have many favourites for different occasions and seasons.
For example, I love the delicious Cherry and Mango Fruit Salad to cap off a summer dinner party, or the easy-to-make Apple Cake, and, in the colder months, the Baked Lemon Cheesecake. The Flourless Chocolate Cake with a Chocolate and Hazelnut Topping is also hard to resist; however, when we have our children's friends over for a meal, the Crêpes with Raspberries and Marmalade, or the Crème Caramel are always winners.
How did your passion for cooking develop?
In my family, it's almost in our DNA. The joys of cooking were passed down from one generation to another. My maternal grandmother, who lived with us and was an excellent cook, was my biggest influence.
What makes French home-style cooking unique? How does it inspire you? 
France enjoys a superbly temperate climate, and has a long history around its regionally specific cuisines. Many home cooks [in France] grow their own vegetables, herbs and fruits. There are dishes for every season, and home cooks have a wide repertoire of dishes, which is why I am inspired by my memory of flavours, cooking techniques and delightful gourmet experiences [that were cultivated in France].
What are the main ingredients in French desserts? Do you have a favourite? 
There are many types of French desserts; some are fruit based, while others focus on pastries, ice creams, and mousses. I try to highlight fruits in my desserts, but the most common ingredients are certainly eggs, sugar, flour and butter. Chocolate is also very popular, as well as vanilla and apples.
We're very lucky to live in a country with access to plenty of fresh, locally sourced produce. What is your favourite seasonal ingredient at the moment and why? 
During the cooler months of the year I love root vegetables such as parsnips and celeriac. It's a good time to purchase cheaper cuts of meats, which are perfect for beef bourguignon and Irish stews, too. I also love using citrus fruits in my desserts at this time of year, as well.
What do you hope people will get out of the book? 
My aim is to appeal to as many home cooks as possible. I hope that people will derive much pleasure out of creating dishes from this collection, and that the result will bring joy to themselves and their loved ones.
Do you have any tips for readers who might feel a bit daunted by French cooking? 
A cooking novice could be further encouraged by starting with simple dishes like soups, salads and casseroles, as well as fruit salads and easy cakes. I tell my students to cook a new dish each month and to practise it three times within that month to master it.
Lastly, if you could only eat one dessert for the rest of your life, which would it be?
Just one? That's not fair! I would be satisfied with a perfectly ripe mango drizzled with some fresh passionfruit and served with a scoop of excellent vanilla ice cream.
Photography by Antoinette Dakota of P-Bloc Media