THE MODERN AGE
Designing a modern kitchen brings with it a vast array of choices that can go far beyond simple aesthetics. With the world of technology, customisation and space-saving methods becoming more popular and accessible, there are countless ways to ensure that this central feature of your home functions flawlessly. Melbourne Kitchen + Bathroom Design's Amelia Mansell discusses how you can create a modern kitchen that will stand the test of time with Garrath Jones, managing director of Seaview Cabinets.
THE JOURNEY BEGINS
As you take that first step in the design process of creating your modern kitchen, it is integral to consider how your kitchen will function within the home. A kitchen can be a communal space, with a constant stream of activity throughout the day that demands a level of versatility in its design, or it can be a retreat where every item has its place. Do you need ample storage for all your appliances, or do you have a 'less is more' mindset? And of course, how will your kitchen interact with and impact other areas of your home?
The well known saying 'form follows function' is particularly apt when creating this firm foundation of your kitchen design. One of the first things Jones asks a new client is how they intend to use the kitchen and then he builds up from there, "all while understanding that it needs to suit the rest of the house and feel like an extension of the home."
BUILDING THE FOUNDATION
Modern kitchen designs are distinguished by their smooth, sleek lines and clean colours. There is an effortless grace to how each element works together to create a cohesive vision. "But [it's] also about what's going inside the cabinetry." Jones says. Cabinetry fittings and fixtures can play as strong a role in creating an ultra-modern kitchen as the style and aesthetic of the design.
There can be hard choices when weighing the cost and benefit of certain features of a modern kitchen, but incorporating fittings such as drawers, and pull-out pantries and corners (to utilise those tricky corner cabinets) are excellent ways to maximise space in your kitchen and create a highly functional, modern design. Jones notes that utilising push-to-open fittings, such as Blum's SERVO-DRIVE, in coordination with minimal, clean cabinetry will "make for a much sleeker look" in your kitchen. This style highlights the clear difference between modern and more traditional designs, removing handles and fittings that disrupt the clean line of the cabinetry, while the smooth practicality of the feature adds a touch of luxury that will distinguish your modern design.
Drawers remain one of the most popular choices in modern kitchens for space-saving, reducing clutter and establishing a sleek ultra-modern design. This simple feature is revolutionary in terms of aesthetics and functionality, saving your back and knees as well as storage space. And paired with a touch-to-open system, you will have the ultra-modern kitchen of your dreams.
CLEAN-CUT INNOVATIONS
Decluttering solutions are one of the many things at the heart of modern kitchens. Retractable cabinetry is a fantastic way to keep your appliances handy for everyday use but also out of sight, with a simple opening and retracting feature that adds a touch of luxurious practicality to modern kitchen designs. The use of this style of cabinetry has been advantageous to the rising popularity of breakfast bars in kitchen. The ability to be able to include this practical everyday feature in your kitchen, hidden but within reach, "keeps your benches tidy and clutter free to give you that sleek modern look you were dreaming of when you first started designing your dream kitchen." Jones says.
Bi-folding doors are a revolutionary option for all those homeowners struggling with space restrictions or who are simply intrigued by the option of tucking their kitchen out of sight. As Jones explains, using a system such as the Hawa Concepta folding doors means that "you can have nearly three metres of cabinetry behind four bi-folding doors" that seamlessly maximise your kitchen or living area. Whether they are open and folded handily into the wall or closed to tidy your entire kitchen or appliance laden benches out of the way, they are a top choice for all those designing an ultra-modern kitchen.
Customisation is one of the best ways to maximise space in your kitchen and will give you an extra level of control when designing your modern kitchen. While every kind of kitchen construction have their advantages and disadvantages, Jones highlights that customised cabinetry ensures you aren't compromising for cabinetry "rounded up to the nearest 100mm", which can be a small but obvious visual disruption and wastes space between cabinets that could otherwise be utilised.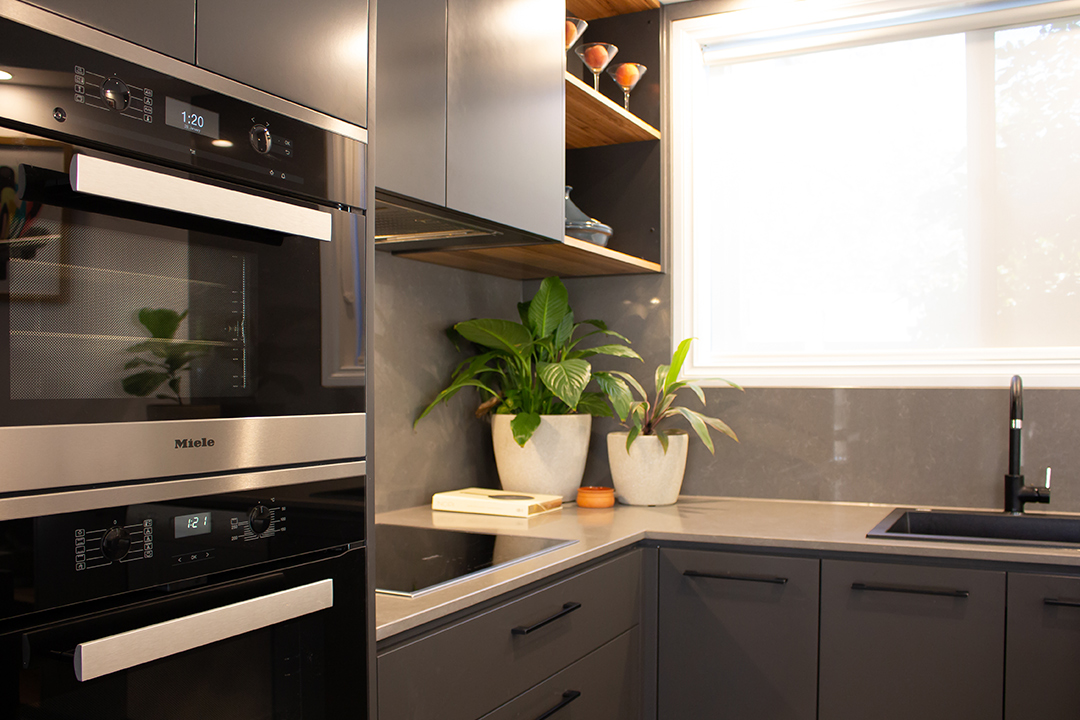 THE MODERN FORM
For those homeowners who want to create timeless modern kitchen, Jones advises to "Look at the base colours you want to use." Consider how they work together, if they will age well, and how much they will impact other choices in your kitchen and adjoining rooms. A great way to introduce colour and texture to your modern kitchen is through natural products such as flat coloured oak doors and stone benchtops.
That being said, "Don't be scared to use your favourite colour." Jones advises. There are many ways to make a statement with colour in your modern design, from your paint or tile choices to using coloured laminate if you're feeling especially bold. But the bolder you are tempted to go, consider if this is a choice you will still love next year, and even in five or ten years' time. "You can always bring things into the room to lift it, but it is very expensive to repaint or reface your kitchen every five or six years." Jones explains.
Clean, simple lines go hand in hand with designing an ultra-modern kitchen. Designers play with dimensions and the way the eye moves through a room, for example by highlighting a raised ceiling or enhancing the sense of space with a long line of benches. For those wanting to take this line of thought even further, another way to enhance the simple beauty of your modern kitchen is to add an element of curve. "While it moves away from the modern a little, curves are back and can bring a softness to the room." Jones explains. Whether this be incorporated in a softly curving island bench, the shape of fixtures, or a mirror, there are many ways you can add another dimension to your modern kitchen and balance the sleek lines with a sense of natural movement that will bring your dream modern kitchen to new heights.
There is a brilliant functionality behind the otherwise clean, simple designs of ultra-modern kitchens. So, as you begin your journey and are swept away with all the options and possibilities, take Jones' advice and discuss how you intend to use your kitchen, and build up from there.
Images courtesy of Seaview Cabinets