Better Bathrooms & Kitchens
Exotic Pools
KITCHEN AND BATHROOM DESIGNER IN MELBOURNE – IMPRESSIVE, MODERN DESIGNS
At the cutting edge of new design trends and quality materials, Better Bathrooms & Kitchens can achieve any architectural style, from modern and contemporary to traditional and French Provincial. Utilising computer-aided design, the company is able to provide a digital visualisation of your renovation before you spend a single cent on any construction works. The 3D modelling technology gives you the chance to see the complete design before construction commences, allowing you to make last-minute tweaks and providing reassurance that your vision will come to life just as you imagined.
Visit Better Bathrooms & Kitchens' website to view galleries of the sensational kitchen and bathroom renovations that have been completed for all types of homes, including multi-storey, rural, solid brick and weatherboard. With the talented team at Better Bathrooms & Kitchens spearheading your next renovation, your dream kitchen will finally be realised.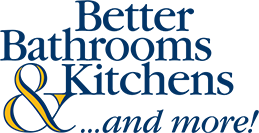 Featuring classic sophisticated design and enviable open spaces, this stunning kitchen, bathroom and laundry renovation is a testament to the skill and expertise of Better Bathrooms & Kitchens.